Kenya
Extreme weather linked to climate change is the new reality for many Kenyans - our work supports them to survive and cope.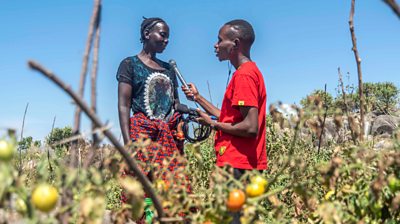 About our work
In Kenya, BBC Media Action has a long history of supporting TV and radio broadcasters to produce engaging and informative programming on topics ranging from water, sanitation and hygiene to good governance.
In recent years, the office has been integral to BBC Media Action's growing portfolio of climate action and adaptation projects. Since 2018, we've run an exciting multi-country climate project mentoring local radio journalists to report the weather better – in turn helping farmers, fishermen and pastoralists adapt to the often devastating impacts of changing weather and protect their lives and livelihoods. We're delighted to be building on this work as part of the EU's Horizon 2020 initiative – partnering with leading academics, scientists and development organisations on the DOWN2EARTH project tackling food and water insecurity across the Horn of Africa.
A previous highlight is our work supporting local and national broadcasters to underpin open and inclusive governance in Kenya. Our radio and TV discussion show Sema Kenya (Kenya Speaks) brought audiences face-to-face with public officials to debate the big issues of the day, and research showed that the programme helped individuals to hold government officials to account during the 2013 Kenya election. Our work in Kenya has also included the youth radio show Kimasomaso ('To speak out boldly') which tackled sexual and reproductive health issues and investigated health services.