Using radio to address indoor air pollution in Ethiopia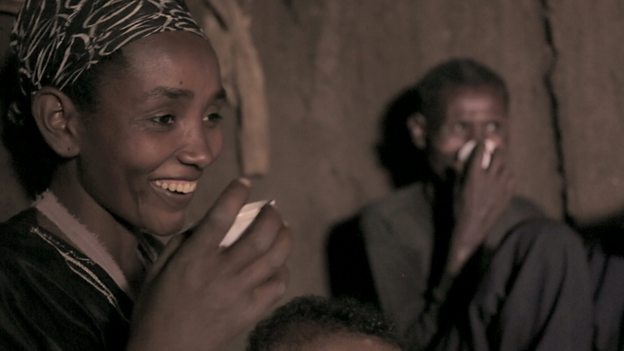 Watch: tackling indoor air pollution through drama.
I trust Golaafala so much that I bought a cookstove after listening to the drama.

Emebet Kedir, Agaro, Jimma Zone
Air pollution is now the world´s largest single environmental health risk, and is fast becoming one of the leading causes of illness and death in developing countries.
In Ethiopia alone, indoor air pollution – caused by inefficient cooking stoves, smoke from open fires and kerosene lamps – triggers tens of thousands of premature deaths per year.
BBC Media Action is producing a radio drama and public service announcements – as part of a project called Air We Breathe – to help address the harmful health effects of indoor cooking and lighting on people living in rural communities in Oromia, Ethiopia.
The drama, called Golaafala (meaning 'solution from within' in Oromiffa) revolves around the lives of a young woman, 18-year-old Warite, and two young men who admire her – minibus driver Nahom and the well-to-do Wako, who owns a mill. When a character is taken to hospital with a serious lung problem – the audience finds out what the drama is all about. Through its depiction of everyday life the drama showcases practical solutions to indoor pollution – such as using stoves that emit less smoke, improving ventilation in the home and lamps powered by cleaner fuels for example, solar lamps.
"We decided that storytelling and radio theatre are the best ways to address such a serious topic," explains Dawit Batri, Golaafala's senior producer. "Spoken word, poetry and music are very popular in Oromia and appeal to the artistic nature of the Oromo people."
The format, broadcast on Oromia Radio, is proving popular. "I love to listen to Golaafala every Wednesday because it's a real reflection of the villages we live in and it's like hearing your own voice," says Bezina Getachew, a listener from the eastern town of Harar. The drama is helping inspire action. "Listening to Golaafala is like listening to my own voice. It's the exact reflection of the society I live in" said Emebet Kedir from Agaro, Jimma Zone. "I trust Golaafala so much that I bought a cookstove after listening to the drama."
Project information
Project name
Air We Breathe
Funder
Norwegian Ministry of Foreign Affairs
Dates
2016
Themes
Health
Outputs
Radio drama, public service announcements, capacity building
Broadcast partners
Oromia Radio and Television Organisation, Ethiopian Broadcasting Corporation
Search the site
Can't find what you need? Search here