'Hello hope': why COVID-19 communication is critical in Afghanistan and Somalia

If you don't have soap, how can you protect yourself against COVID-19? 
If you walk miles for water, and have to choose between using it to cook for your family or washing your hands, which takes priority?
COVID-19 is believed to be under-reported in both Afghanistan and Somalia, and people don't always know how serious coronavirus can be. And in both countries, people are often more concerned about the impact of poverty, conflict and the threat of violence on their families than they are about coronavirus.
Our communication campaigns aim to increase people's understanding of coronavirus transmission, that both washing hands with soap and water and motivating people to maintain physical distancing are critical to stopping the virus's spread. We are working to encourage understanding, inspire communities to take coronavirus seriously, and increase their uptake of preventative measures that will protect themselves and their families.
In Afghanistan, we are connecting with the urban poor and Kuchi nomads. The latter are traditional traders in sheep, goats and camels; they are proudly Islamic, with a very private and strong sense of community. Our formative research indicated that male members of the tribe generally believe only God can stop the spread of COVID-19, and that most do not regularly use soap for handwashing. Music is very important for the men of the group, and radio their main source of information – but men have more access to information than women. Most Kuchis we spoke with knew some of the symptoms of COVID-19 but believed it had not reached their community.
For the urban poor in Afghanistan, the pandemic is one of many competing issues affecting people's lives – and we found that generally most believe the worst of the pandemic is over. There is largely a lack of trust in the health system and widespread rumours against health professionals.
"COVID-19 is one of many struggles that I must deal with," said one of our interviewees.
A radio drama for Kuchis
We're creating 40 four-minute fast fiction radio episodes which are released weekly with the Kuchi way of life – and struggles - in mind. Each episode broadcasts three times a week on one national and 12 local radio stations, which were carefully selected to align with their regular migration routes.
Barbokai (Tornado), is a drama focused on a young woman's life in a typical Kuchi community, where she is seen as something of a rebel. During the series she joins forces with the son of the sarkhail (tribal leader) to convince their community to take coronavirus seriously with key preventative measures.
Soap and water – communication is aid
Our public service announcements (PSAs) for radio, TV and social media seek to support the urban poor in Afghanistan. One-minute PSAs for TV air across 12 stations, while the five radio versions play across 33 radio stations in three local languages.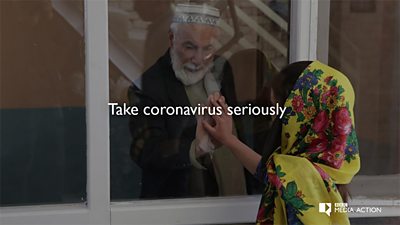 We expect to reach 7 million people through these communication initiatives in Afghanistan.
In Somalia, our media campaign 'Hello hope, bye bye Covid' aims to challenge people's attitudes and beliefs around the transmission of coronavirus, while heightening awareness around prevention.
Introducing 'Captain Suleiman'
Our 60-second public service announcements (PSAs) are told by Captain Suleiman – a radio DJ character who reads out people's messages and gives a reply - for example,
"Sorry sorry sorry! I got late today! What could I do? My mother's sister's son's wife called just as I was leaving home!
SHE SAYS... (now Captain Suleiman mimics her) Captain Suleiman... my husband keeps disappearing every now and then! He meets someone, he disappears for a while! I offer him food, he disappears for a while before eating it! Our child comes running to him, he disappears again! What to do?"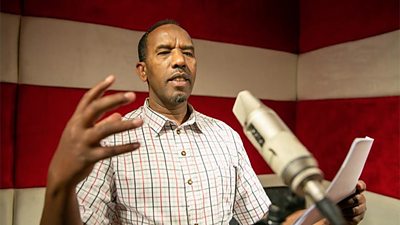 "You know what I, Captain Suleiman, said to her... smart fellow your husband! I always knew he was! My advice... follow him!
He's disappearing to do something VERY important!! He knows that to keep coronavirus away, handwashing often, with soap and water, is a must! Before you touch anything.. after you touch anything!
And no excuses! Because washing with soap and even little water works wonders!"
We're making 10 radio PSAs to be broadcast more than 1,000 times per month across 19 stations across Somalia, and five video PSAs that will broadcast on four TV stations and BBC Media Action Somalia and CARE Somalia's social media channels.
We expect to reach 4 million people through this communication campaign in Somalia.
--
BBC Media Action will work in Afghanistan and Somalia with the Hygiene Behaviour Change Coalition (HBCC) until July 2021. The HBCC project is supported by UKAid and Unilever - our aim is to focus on hygiene behaviour change that will support people to better protect themselves against COVID-19, and contribute to better health for themselves and their families.