Radio Waves and Zambia Speaks! How support to local radio stations empowers social change
BBC Media Action has been supporting 15 local radio stations across Zambia to cover local governance issues and improve accountability in the delivery of critical services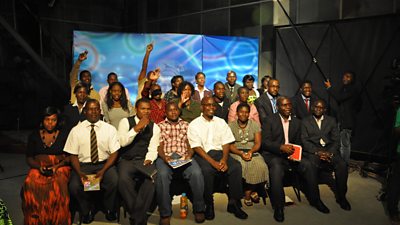 Downloads
By listening to comments made on radio, I have kept tabs on what the people say and want and add those things to my 'to-do-list
BBC Media Action has been supporting 15 local radio stations across Zambia to cover local governance issues and improve accountability in the delivery of critical services including education, sanitation and access to water through two projects: Radio Waves (since 2014) and Zambia Speaks! (since 2016). 
Through these projects, we've provided wide-ranging capacity strengthening to improve partner stations' sustainability and ability to impact on local governance issues. We've supported production of weekly radio programmes on governance, and outdoor debates that engage audiences on important local issues and create opportunities for citizens to interact with those in power at a local level.
Evaluation methodology 
Our final evaluation of the projects consisted of a large-scale quantitative household survey, qualitative research – including participative workshops with audiences, local stakeholders and staff from partner radio stations – and content analysis which compared governance programmes produced by four BBC Media Action-supported stations against four non-supported stations. 
The fieldwork took place between October and December 2018. Analysis and reporting was conducted by BBC Media Action's research teams in Lusaka and London.
Key findings 
The evaluation found that BBC Media Action's support helped local radio stations better connect with their audiences and succeeded in engaging traditionally marginalised audiences, including women, youth and those living in rural areas.  
Overall, people who regularly listened to governance programming produced by our partner stations were more likely to know more, had higher confidence and motivation to participate in politics, and participated more in politics than non-regular listeners. 
This was true after controlling variables that may have affected the results such as age, gender, location, education, and economic status. Listeners felt that the programmes successfully empowered them to hold their leaders to account. And local stakeholders also reflected on the increased level of accountability the programmes created:
Along with the views of station staff and local stakeholders, the research showed that various developments in the local community were linked to the governance programmes. Case studies showed how the programmes helped to improve engagement between citizens and local authorities, resulting in examples of governance issues being addressed. These were verified by listeners, station staff and local stakeholders. 
Our Radio Waves and Zambia Speaks! projects are funded by SIDA and DFID (through the British Council) respectively.