Downloads
Publication date: May 2021
Authors: Vichheka Sao, Anisha Ratan and Hor Otdam
We recently conducted a nationally representative survey of 1,510, 15-30 year old Cambodians, as part of a wider study through the Klahan9 project. The study sought to find out about the lives of young Cambodians, including their media habits, key values, and how they participate in civic life.
Findings from this study found that access to and use of digital media continues to grow and attract young people in Cambodia.
Social media is the most popular form of media, consumed by 87% of 15-30 year old Cambodians. Nevertheless, traditional mass media (television and radio) remain important, particularly for more vulnerable groups. For example, TV usage is higher amongst women, those from rural locations, and those from lower socio-economic groups.
Whilst the vast majority of young Cambodians now go online in some form, and use smartphones, there is still some disparity between demographics – usage is higher amongst men, those from urban areas and higher socio-economic groups.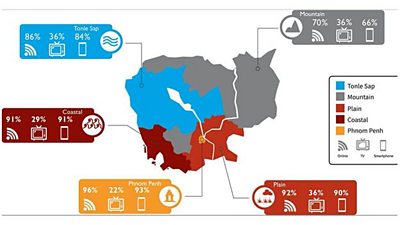 Social media consumption: Facebook / Facebook messenger, YouTube and TikTok are the most popular social media platforms. Over 4 in 5 social media users (81%) use social media daily (66% several times a day).
How young Cambodians are using social media:
Nearly all users follow people they know on social media. Young Cambodians also report interest in following successful and relatable influencers (such as life advisor DJ Nana Tips, educator and business advisor Mengly J Quach and a new rising influencer Heng Visal) for inspiration and motivation.
Nearly all social media users claim to like/react to content but slightly fewer engage more deeply through sharing, commenting or posting their own content.
78% report checking the source of a post before sharing it (those from rural areas, younger groups and who are less educated are less likely to). 34% also report sharing posts or links to content without reading it first (this is more prevalent amongst younger groups, as well as men).
Main purpose of using the internet and social media:
Young Cambodians report going online for connecting and socialising with others, for accessing news and keeping up to date with current issues, and for entertainment.
Interest in news content is higher for older demographics: 27% of 15-17s claim to access news, increasing to 42% for 18-24s and 52% for 25-30s.
Young people like to engage with content that is relatable, emotional, motivational, funny and useful but most avoid more sensitive topics – like politics, drugs or anything they deem immoral.
To learn more about the insights uncovered from this research please see the document above and further information on the project via the links below.
Further research