Information saves lives: COVID-19
BBC Media Action staff are working around the world to create clear fact-based radio, television and social media content to help communities adapt and protect themselves and to help stop the spread of COVID-19.
Donate to our COVID-19 appeal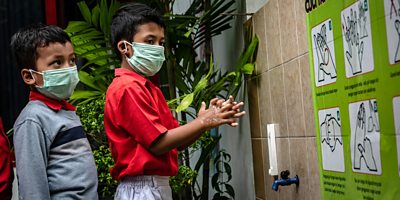 For more than 20 years, BBC Media Action has provided vital health information to audiences around the world, and helped them cope both in moments of crisis and in the longer-term. We are responding now to the COVID-19 pandemic – here is how you can help.
BBC Media Action is the BBC's international charity. We believe in the power of media and communication to do good.
In a crisis, people need the right information to help keep themselves and their families safe. When the COVID-19 outbreak began, we responded quickly – training and working with partners to produce trusted, accurate and timely content for social media, radio and television, to help slow the spread of the novel coronavirus and counter harmful mis- and dis-information.
Our dedicated teams have moved rapidly to adapt our existing projects to address the knock-on effects of COVID-19 – from increased levels of violence against women, to children losing out on an education during lockdown. Through media, we're helping people understand what they can do, individually and as a community, and how they can hold their leaders to account.
We are committed to supporting the international response for the long haul – helping people to survive, cope and recover from COVID-19, meeting their diverse and changing needs, and supporting local media to keep their communities informed.
As an independent charity, we are not funded by the BBC Licence Fee. We rely on the support of generous donors – governments, foundations, corporations and individuals – to make our work possible.
Trusted and accurate information will save lives.
Please help us to continue supporting the global response by donating.
The link above will redirect you to JustGiving's website and its use is subject to their terms & conditions and privacy policy.