Resilience and climate
Building resilience and tackling climate change requires action at all levels of society. Media has the power to bring people together to discuss options that benefit everyone. Find out how the BBC's international charity is supporting millions to boost their economic security and address climate change.
Support our climate action work - donate here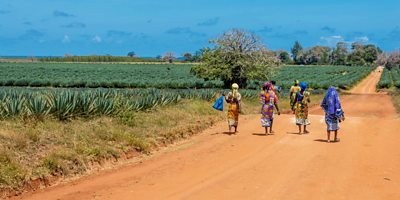 Millions of people around the world are experiencing the effects of climate change, environmental degradation and economic downturns. The poorest feel these impacts most, and often find it hardest to cope.
Our work aims to reduce risk and build resilience by equipping people with practical information and platforms for discussion that support decision-making within households and communities.
Climate-related programming helps audiences adapt farming practices, protect their homes, and use weather forecasts more effectively to safeguard their lives and livelihoods.
Programmes to reduce disaster risk have inspired people to build earthquake-resistant homes and take other actions to protect themselves from natural hazards.
Economic-focused programming is helping audiences increase incomes and manage their money more wisely through advice on employment, entrepreneurship, budgeting and financial services.
Our work in these areas also addresses governance - to inspire people to engage in discussion and debate about what can be done about environmental and climate issues, and to encourage accountability among leaders.