Friday Phrase
Intermediate level
To spoon-feed
Episode 191108 / 08 Nov 2019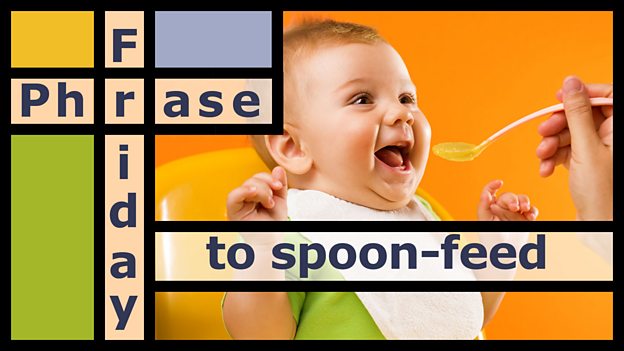 TO SPOON-FEED
To spoon feed someone means to give them so much help that they don't need to do anything but follow your instructions. It comes from the literal meaning of feeding a baby with a spoon – the baby only needs to swallow the food; they don't need to make the food, pick up the spoon or even chew it.
We can use this expression with lots of nouns, but two common examples are 'information' or 'answers'.
Example Sentences
The teacher spoon-fed her favourite student the answers to the test.
Bob doesn't have much initiative and isn't able to do things by himself – you need to spoon-feed him.
This new accounting software is fantastic – you just input the numbers and it spoon-feeds you all the information you need!
A good journalist investigates his story – he's not satisfied with information spoon-fed by government ministers.
Now You Try
Has anyone ever spoon-fed you information that helped you achieve your goal? Is it good or bad to provide too much help to someone - does it kill their initiative and self-confidence? Share your opinion with us.
😉 You can also share it with everybody on our Facebook, Instagram and Twitter pages - we're waiting ❤️
😉