Session

2
Academic Insights 3 – Academic speaking and listening
Welcome back to 'Academic Insights' – part of our new 'Go The Distance' course. On these pages, we'll hear from lots of different distance learning tutors and get their top tips for successful study. This week we focus on an important area of distance learning: tutor Patrick will tell us all about speaking and listening in an academic context.
Activity

1
Getting academic talking right
Patrick Andrews is a tutor in English for Academic Purposes and Business English, so he knows a lot about the kinds of speaking and listening skills that students need for successful distance learning. We asked him for his advice on how students can upgrade their academic talk. To help you understand the tips in Patrick's video, look at the definitions of key words in the Session Vocabulary box.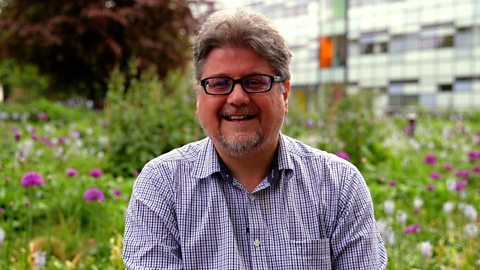 #6 things you really need to know
Trouble with academic talk? Patrick Andrews answers your questions in 3 minutes.
To do
Scroll down to watch the video and find out:
What audio-visual materials distance learners can use
Why audio-visual material is important
What you should do before watching a video
The kind of language you need to prepare for online tutorials
And more!
Show transcript
Hide transcript
Patrick
My name's Patrick Andrews. I'm a distance tutor. I work in English for academic purposes and English for business English.
There are two kinds of audio-visual material that students may encounter. One is video material that is part of the course. The second kind is an online tutorial where students talk to their tutors and fellow students.
Students may want to watch video for various purposes. One is to learn language that is specific to their subject and to extract information about their subject. A second reason is that they may want to watch videos for a good example that they can follow when they are talking themselves.
A student should think about why they are watching. Are they watching to get particular information that may be helpful for them in writing they're going to do or particular information that will be helpful for them in giving a presentation?
One strategy is to think about what they already know beforehand, because the AV will be related to what they'd studied before. A second possibility is to divide the video into shorter extracts, so watch a little bit at a time. Watch out for those words that are said more slowly and louder. A third possibility is to look at a transcript.
The notes can be very useful for you in your later studies, either for writing an essay or for doing an exam or for giving a presentation. A second reason is that it helps you to focus on the main points. A third reason is that you can compare your notes with the notes that other people have taken so you can have some sort of discussion about - about what you've heard.
Students need to prepare two kinds of language for an online tutorial. One of these is the specific language related to the topic that's going to be covered. The second is the kind of language that is involved in communicating effectively within the tutorial, so the words like "This must be because…" "I think it's this because…" "'Is this possible?" "Why do you think that?" "What about doing this?"
Go the distance.
Patrick's tips
Let's recap the #6 things we've learned about dealing with audiovisual materials in distance learning.
Students may come across two kinds of audiovisual material on a distance learning course – recorded audio or video and online tutorials
Videos are a good source of language related to your course. They also provide a good model to follow when you have to speak in academic contexts.
Think carefully about why you're watching a video – for example, is it to help you prepare for a writing task or to give a presentation?
Watch videos in short chunks – it's much easier to understand short extracts rather than a long video.
Making notes as you watch or listen is important – your notes can be used when writing an essay or stimulate discussion with your coursemates
Make sure you prepare for an online tutorial – get ready with subject-specific language and other phrases to discuss your progress with your tutor.
Session Vocabulary
Find out more about distance learning – visit our partner,The OU

____________________

Patrick's tips will soon have you tackling academic talk without any trouble at all – but to make sure you can understand the video, here are definitions for some of the key words that he uses:

audiovisual (or AV)
something that uses both recorded sound and video

strategy
a plan of action for achieving success in something

extracts
(here) short sections taken from longer pieces of video or audio