1
Unit

1: Drama: Father and Son

Session

11

Watch our new crime drama, Father and Son and then learn more about the people involved with the making of it.
Activity

3
Father and Son: Meet Veronica!
Veronica Jean Trickett plays Lucy Phelps in our crime drama. Find out about which actors she really admires and more....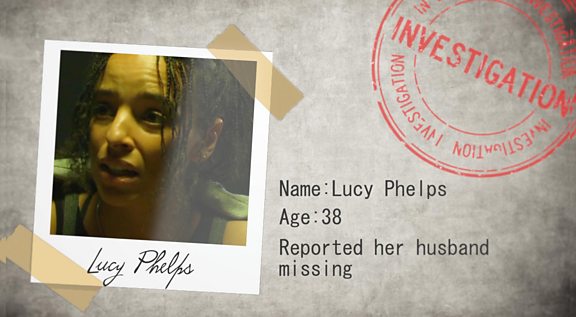 Watch the video and complete the activity
Show transcript
Hide transcript
Hello, my name is Veronica Jean Trikett and I'm playing the character of Lucy.
Look, I know how this works. It's too soon. He's probably gone off somewhere and forgotten to tell me – come back tomorrow... blah, blah, blah.
I think I knew I was going to become an actor when I was a child, really. I used to play Peter Pan endlessly. It was my favourite thing to do and I'd always rope in my sisters: my little sister would be Michael and my older sister would be Wendy. And any time I had some friends come over, I would make them become one of the Lost Boys or the pirates – rifle through my mum's clothes and find anything that was green and put it on. I think that was when I knew.
I mean, there are... there are lots of things that we're taught as actors in order to bring a character to life. So, there are lots of mechanical things that you learn; you... you're taught how to understand and interpret text when you're training. It's important to understand intonation, punctuation and have a full understanding of the scene. And there are a few things that you can intuitively pick up from your own experiences. I always like to be very methodical at first – really sink my teeth into the scripts, so I can feel it inside and out and I don't even have to think about the words that are on the page any more; they're just words that come out of my mouth. Once I get to that point, it's just about relatability and not judging the character: understanding them and seeing how that person can... can be somebody that you might understand – meet them halfway. Once you have a full grasp of their motivations, I feel like they become your motivations and... and so you become the character and the character becomes you, and that comes across on screen.
OK. I will go with a character I played for a short fan film. It was for a Star Wars fan film and I had two weeks to learn combat training for the... for the short film. We shot it down on the south coast in some beautiful, rocky, beachy areas and it looked otherworldly. And it was great because it was the first time I was ever able to, kind of, put live-action combat into practice and I got to play a bad guy, which is always cool.
Well, my favourite actor is Robert De Niro and that's because he looks like my late father. I don't know if I could imitate him so much as I could imitate a New York accent, like 'Eh, I'm walkingin here,
then. Somebody said, That's Al Pacino or any other Italian American New Yorker. I particularly loved him in Stardust. When he challenged everybody's perception of him and he took on a cross dressing pirate that for me just really endeared me to Robert De Niro because he wasn't afraid to challenge gender stereotypes and what the world had known of him so far, so absolutely adore him. I'd love to meet him a scifi. Hands down. I love Sophia. That's just personal. I love the genre. I love the capacity that scifi and gives to you the restraints that we have of the real world just don't tend to exist. Or there's some fantastic scientific explanation for. Why. Illogical things can occur and I absolutely adore it. And obviously fantasies justice as fun, but I like Sophia because I liked the concept of outer space. The unknown and the adventures that people in outer space seemed to go on and seem so engaging and thrilling.
It's just what I prefer to watch. Yes.
In the next Activity, you can meet the writer of our crime drama.