1
Unit

1: Drama: Father and Son

Session

11

Watch our new crime drama, Father and Son and then learn more about the people involved with the making of it.
Activity

2
Father and Son: Meet Grant!
Grant Leat plays Detective Nikesh Ready in our crime drama. Find out about how he learns his lines and more....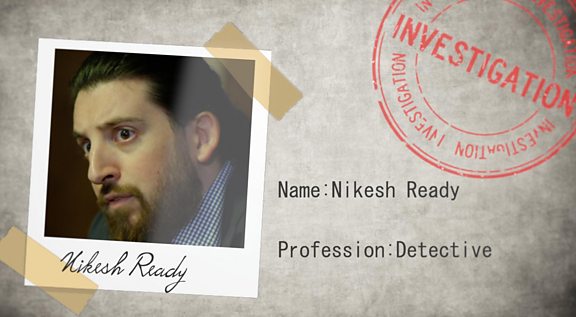 Watch the video and complete the activity
Show transcript
Hide transcript
Hi! My name's Grant Leat and I'm playing Nikesh.
Ms Phelps, We'd like to build a clearer picture of your husband's state of mind, in order to establish whether there is any cause for concern here.
It sounds clichéd, but when I was growing up I did a lot of, kind of, am-dram stuff. I enjoyed showing off in front of my mum and dad when I was a kid. So, yeah, I think all the way back until I was probably about five years old, I realised I liked showing off in front of people, I guess.
I was playing opposite Helen, who plays Callie in the drama. I was doing Market Boy, which is set in Romford market, and I'm from Essex; I'm an Essex boy and it really resonated with me. I was the butcher. I used to be a butcher as well; it was my first job coming out of school. So, it kind of... yeah, it was like the perfect, perfect part for me. And I got to swear a lot as well so...!
I had to play... I did a short film once where I had to play a... We were a couple that were being sent into Mars to repopulate the Earth.
And those drama nerds out there that know, you know, you've got to... you've got to go based off of your experiences. Obviously I've never been in space before so, yeah, it was quite a challenge, you know, to put yourself in that mindset. But I read a lot of, kind of, Margaret Atwood books and George Orwell; I like post-apocalyptic kind of stuff. So, yeah, it was fun, but obviously really weird – weird head space for that.
I think that's what, kind of, draws me to acting the most actually. A lot of people like writing their own stuff. I personally like taking somebody else's work and putting my own spin on it. And I think the most interesting thing you can do when given a script is look for the stuff that maybe the writer didn't see, and it, kind of... I don't know – I think that makes it a fully formed character, because then you've got the writer's perspective and you've also got the actor's perspective.
I think you – and the writers are going to hate me for this – don't be afraid to... If you... if you haven't got the word exactly right or if you haven't got, kind of, the punctuation exactly right – it's more about the feeling. You know, so it's much more important to feel alive in the... in the performance rather than remembering the exact words and... and especially with – maybe not so much film – but definitely theatre: change it up every time. Make it different every performance. And that's how you stop it sounding the same every single time and sounding like a robot. You know, people are going to come and see you, hopefully multiple times; they want to see something different. And also if it's the first audience, they should get something brand new and if they're the last audience, they should also feel like they're hearing these words spoken for the first time. So, yeah – different every night.
There is no secret to it unfortunately. You've got to... you've just got to keep going: repetition is the key there. And what I find really helpful is learn... learn the lines without any kind of intention. It makes it really difficult but you have to learn your lines like a robot, so then when the director says, 'Can we try like this?' you haven't, you know, learnt it in a certain way. You've learnt it in that kind of monotone voice and you can make it scared or intimidating or whatever. So, yeah, that is the main thing I would – if, you know, you want advice for new actors – is learn your lines, kind of, like a robot, I guess.
I'll go a little less: ' Uh, I'm an actor and I like all these important actors....!'
Will Ferrell, I think, is a comedic genius. It's not going to be a great impression but my favourite Will Ferrell film is Talladega Nights, where he... he plays a NASCAR driver. Not a lot of people like it; I really like it and my favourite line from that film is:
'Shake and bake, baby! Shake and bake!'
In the next Activity, you can meet the Vernonica who plays Lucy.