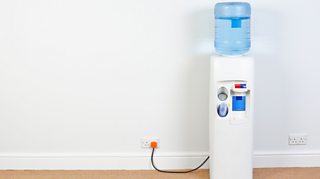 To play this video you need to enable JavaScript.
Will office life ever be the same again?
Working from home has become the new normal for many people during the coronavirus pandemic. But how might office life evolve in the future?
Published on 28 August 2020
---
Will office life ever be the same again?
BRUCE DAISLEY, AUTHOR & PODCASTER: Office workers will look back at 2020 as something of a tipping point in the world of work. Largely, workers proved to their employers that they could get their jobs done from home. So what does the future hold for the office? 80% of people who worked from home during the lockdown say they'd like to continue working at least one day from home in the future. Meanwhile two out of three of us say that we're longing to return to the office in some form. In other words, we want to have our cake and eat it. We want the best parts of the office and the best parts of working from home. The workplace property expert Anthony Slumbers said no firm ever wanted an office, they wanted productive employees and the office was just one way to create that. Over the last few years, many companies had moved to open-plan offices. Well the promise was that we would be let loose in vast workplace savannahs, free to meet and bounce ideas off each other. In fact, open-plan offices tended to make us feel like we were constantly interrupted and unable to get anything done. We've realised offices are good for some things. The office had something called 'a network effect'. So it's chance encounters, bumping into colleagues and sharing thoughts just casually, that we're finding so difficult to replace. And there seems to be some pretty good evidence that our best 'aha' moments happen in these chance encounters. Professor Sandy Pentland from the Massachusetts Institute of Technology says the reason why these conversations are so effective is that these are the moments that we don't find ourselves supervised by our bosses, we feel free to have honest discussions. So if the office was good for a few things and the top one - chatting to colleagues is the one we're struggling to replace, what's the answer? Maybe your firm will join something that's starting to be called the TW and T Revolution, where workers work from the office on Tuesdays, Wednesdays and Thursdays but from home on Mondays and Fridays. And no doubt, in time, someone will come with a catchy name for people who work like this. Other firms are being still more adventurous, saying they want to free up workers to do their work whenever they feel most productive. They're adopting what's being known as asynchronous working. When we do something synchronously it means we're coordinated in time, like the swimmers at the Olympics. Asynchronous work says, 'how about we allow people to give their feedback or their ideas whenever they're feeling most inspired?' Companies who do this say it allows workers the flexibility to take their kids to school or even do leisure activities and this is what the asynchronous working firms believe will attract the best workers to come to work for them. Expect to hear a lot more of the word 'hybrid'. At the more adventurous end of hybrid, some firms are even talking about only getting their employees together one week a quarter. Meaning that, almost certainly, they don't need an office. More than anything, one thing seems increasingly certain… for many office workers, the era of getting up every day and going to the same place seems to be a thing of the past. And the question is... Will you miss it?
---
How to be happy at work (yes, really)
18 VIDEOS
1:13:23
1.4m views
Work is often described as a necessary evil. But it doesn't have to be a chore. Here's how to be healthier, happier – even richer at work.