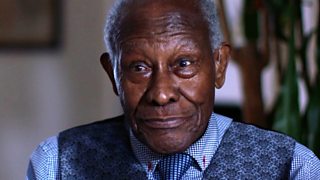 To play this video you need to enable JavaScript.
'Why I'm still fighting racism at 90'
Anti-racism pioneer Roy Hackett reveals the extraordinary level of racism he faced when he first arrived in the UK in the early 1950s.
Made by BBC Studios, 24 January 2019
---
'Why I'm still fighting racism at 90'
ROY HACKETT: We have a saying, "You've got to be in it to change it." And that is my word, "In it to change it." CAPTION: Roy Hackett has spent 50 years fighting against racism. CAPTION: At the age of 90 the fight goes on. CAPTION: OLDER & WISER ROY HACKETT: Try and try, never stop trying because trying is what I did in my life, in my whole life. ROY HACKETT: I keep trying because everybody thinks I'm a no-good and I keep trying until I become a too-good. CAPTION: Roy arrived in Britain from Jamaica in 1952. ROY HACKETT: Great Britain was not great to its Commonwealth people because we were of different colour. CAPTION: At the age of 29, he made his home in Bristol. ROY HACKETT: I came and I walk along the road for about ten doors and every one I knocked that didn't have a card on it to say, "No gypsies, no dogs, no Irish and no coloured." ROY HACKETT: A lady opened the door and saw me and she didn't say a word she just slammed the door. I said to myself, "I think that's the norm here." ROY HACKETT: There was no rule about discrimination and what you shouldn't do. They thought they could do anything and get away with it. ROY HACKETT: When I tried to buy my first house there was a big crowd of white people standing out and I thought they'd come to welcome me in their midst. No. You know what they did? They said they didn't want me there. ROY HACKETT: I said, "Why did God make two colours or three colour people? Why didn't he just make everybody black, everybody white, everybody pink? We wouldn't have had this trouble." ROY HACKETT: I felt extremely degraded and thought, "But what am I doing here?" And I think I've just got to put up with it until something comes along. CAPTION: Roy helped set up the Commonwealth Coordinated Committee to unite the Caribbean community. ROY HACKETT: We decided to fight anything that a black person was involved to help them out. CAPTION: In 1963 the committee face their greatest challenge... CAPTION: ... when the Bristol Bus Company refused to hire non-white staff. SPOKESPERSON: Whilst we can obtain white labour in this city we intend to go on engaging white labour rather than coloured labour. ROY HACKETT: In a country ruled by Britain, we drive our buses. We drive aeroplanes, we drive helicopters, we drive trains. So why is it in England we can't do it? BUS DRIVER: Well we don't want them on there that's the main reason. There isn't going to be enough work for the whites, let alone the blacks. ROY HACKETT: They were not shifting. We said, "We've got to take it to the other level." We are going to form a group and stop the buses. ROY HACKETT: We physically sit down in the road. At the time, Arthur Scargill was having the miners' strike up north and we were having the strike down here, and at one stage they said, "Arthur Scargill, Roy Hackett and Tony Benn are the three worst persons in England." CAPTION: The boycott attracted national attention. The bus company lifted their ban. And two years later there was a change in the law... ROY HACKETT: In 1965 Harold Wilson stood up in Parliament. The battle against racialism here in Britain... And he said, "As from today, any person discriminating against another because of politics, religion, colour, creed or disability you have committed a crime punishable by five months in prison or five thousand or both." And I cried. ROY HACKETT: I said, "Thank heavens for this." I said, "We won." CAPTION: Roy has continued to fight racism over the decades. ROY HACKETT: They never taught it in school that this happened here and I said, "Why, are they ashamed of what they've done to us?" ROY HACKETT: I talk to the primary schools. I always tell them that we had to do that to bring you up and never forget your roots. ROY HACKETT: Trying is a great thing and if you ever fail one try another time or try to improve what you fail on, you know, and try again. Really because young people today they are tomorrow's people and we must try our best to make them be a good tomorrow's people.
---
Older and Wiser
6 VIDEOS
26:23
403.9k views
Sexism, racism, the environment... Here's six takes on some very contemporary issues from key figures now in their 80s (or nearly!) and 90s.