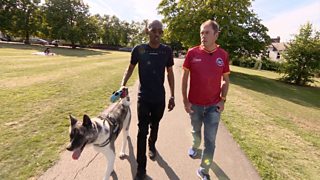 To play this video you need to enable JavaScript.
Why I'm friends with the man who shot me
Retired police officer James Seymour and former gangster Leroy Smith on how they became friends in the most extraordinary of circumstances.
Film by Katharine Carpenter/Leana Hosea, 15 September 2020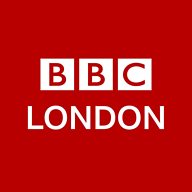 ---
Why I'm friends with the man who shot me
Leroy Smith: It just went crazy. And the whole thing was like a split second thing. James Seymour: And I remember sitting there, lying there thinking I'm not going to die here. I'm not dying here. Caption: Why I forgave the man who shot me My name's Leroy Smith and I'm here today to do an interview with the BBC about an incident what happened over 20 years ago. I'm James Seymour. I'm a retired police officer, now a member of police staff training police drivers. Caption: James and Leroy had very different childhoods. I grew up with my grandma. My mum got murdered when I was two. And I left school from about 13, started doing burglaries, robberies, and went to prison, got four months. Came back out, same thing again. And this cycle just continued. I grew up in Kent. Came from a very religious background where it literally the Ten Commandments were taken as they were, had no telly, no radio. By the time I got to late teens, I decided I wanted to move out and do something. So it was either the armed forces or the police. Caption: James joined the Metropolitan Police whilst Leroy embraced the life of a south London gangster. In the 90s Brixton was - and still is - a dangerous place. The whole community is violent and society is violent in general. But I was just at the time more violent than everybody else. Because I realised that that's the way that you get things done. There's a lot of deep feelings, especially at Brixton from the 1981 riots, that were still running very deep. You could literally feel the tension that any slightest thing and this could go quite nasty. Caption: James' and Leroy's worlds collided on a day in 1994, when James and his colleague Simon Carroll went to check on a pub in Brixton. I know that I wanted, myself and my colleague, wanted to look for some overtime and the easiest way to do that would be a simple drugs arrest. Caption: Leaving the pub and just about to get on a motorbike, were Leroy and his friend. We did a textbook stop, back-to-back, separated them. And I said, I ain't got nothing to hide or something along them lines… And I had things to hide. He dropped something on the floor that I thought was crack cocaine. So I went to push him against the wall so I could take hold of the evidence. It just went crazy. And the whole thing was like a split second thing. So it wasn't like, I planned it. It just happened. Caption: Leroy shot Simon, then James. He pulled a handgun from his waistband, hit my colleague in the leg. And it's one of those things where everything's in slow motion. This isn't really happening. This is just a nightmare. I'm going to wake up in a minute. You know, the alarm's going to go off. But it is reality. And it was just a surge of adrenaline. When you live like that, you're not thinking about other people. You think about yourself. It's a self-centred world that you're living in. The gunman then fired a third shot, which hit me about a centimetre from the spine, went across the top of a kidney, then ripped out the side of my flesh outside of my body. I remember sitting there, lying there thinking I'm not going to die here. I'm not dying here. Caption: BBC News 1994 The two officers, PC Simon Carroll and PC Jim Seymour, are in hospital. They stopped to question two men who were on a motorbike and both officers were fired at by the pillion passenger. Caption: Miraculously, James and Simon survived, although both were badly injured. I knew Simon was quite bad by the way he screamed. So I tried to get to him. But the pain was too bad. I just couldn't move. Caption: Leroy fled the country using a false passport. He was arrested a month later after a tip-off to the FBI. Caption: In February 1995 he stood trial at the Old Bailey, and was given a 25-year sentence. That is a long time and I just thought to myself I'm never getting out. That's what I thought - I thought I'm never getting out. Caption: Leroy spent nearly 20 years in prison. On his release he wanted to turn his life around. Caption: He started mentoring young people and wrote a book about his experiences. I read it. Some of it I didn't agree with. Some of it I found really interesting. And I thought, if he is actually wants to make a difference to people's lives, I will support him and let him know that I agree with what you're doing. And I hope you have changed because I always wanted that. Caption: James got in contact with Leroy and amazingly, they became friends. Caption: 26 years after the shooting, they returned to Brixton together for the first time. This just feels weird. You haven't come back at all then? Nah, I always try to avoid Brixton if I can, to be honest. I've been back a couple of times, but it seems a bit strange being here with you. Yeah, man. I didn't realise how it would feel so, so heavy on my heart. That's the truth. Now that I'm here, I'm kind of lost for words that's not normally like me. I'm pleased Leroy's doing it with me. You know, it's his moment. Another moment in my life I won't ever forget. If it was me, I wouldn't forgive someone, so if it was a situation now where something was happening, I would put my life in harm's way for him if I had to without hesitation, because of everything what's happened. That's the truth. I accept some of my colleagues are not going to support what I'm doing because, I don't know, that they might be "old school" and think well, he shot two police officers - they should throw the key away. But for me, that's just very narrow-minded. Just forgiving Leroy, it's been amazing. It's made him feel good. It's made me feel good. You know, when I was suffering PTSD, it wasn't just because of the shooting it was due to a number of horrific incidents that I dealt with. But now, without doubt, it's one of the best things I've done in my life. I shot the man point blank, a policeman. I don't know him from nowhere. Our paths have collided. I'm a gun man. I'm a bad man. He's a law man. And now I can class him as a friend.
---
Crime and punishment
These videos feature a range of ideas around crime, justice, punishment and incarceration.