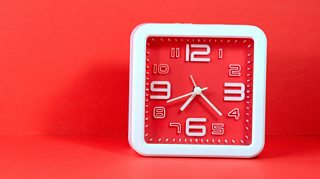 To play this video you need to enable JavaScript.
Why does time go forwards not backwards?
Time moves forwards not backwards. We all know that. But why? Science journalist Alok Jha explains all.
Made by Flock London, 12 March 2019
---
Why does time go forwards not backwards?
SCIENCE JOURNALIST ALOK JHA: Time is a dimension. Just like length, breadth or height. But whereas we can move in any direction in those other three dimensions we can only move in one direction of time - forward, relentlessly. Why? Why can't we ever move backwards in time? For a long while scientists couldn't come up with a convincing explanation. The laws of physics, you see, work fine whether you're going forwards or backwards in time. Their answer finally came from an unexpected place - steam engines. At the start of the industrial revolution engineers were trying to understand how to make steam engines more efficient. In examining how all that heat and energy moved around an engine, they developed a whole new branch of science, which they called, appropriately, thermodynamics. But it turned out that thermodynamics could explain the behaviour of a lot more than just steam engines. In particular, the second law of thermodynamics helps us to understand why things happen in the order that they do. A cup smashes on the floor for example, and spills out all its contents. Now, we inherently know that that process is irreversible. Cups smash. Things have a way of disorganising themselves but they're not so good at reorganising themselves and the second law of thermodynamics tells us why. Another way of looking at it is in terms of messiness. A cup is tidy. A smashed cup is messy. The word for this in physics is... entropy The more entropy there is in a place, the more disordered, messy and useless it is. Here's what the second law of thermodynamics looks like. This 'S' represents entropy and this 'd' is a mathematical way of representing change. So 'dS' simply means a change in entropy. Now if you look at this equation from left to right what it says is that the entropy of a system always has to increase. When a cup smashes or a freezer defrosts that's fine according to the second law of thermodynamics because the entropy of those things increases. But if you expect melted ice to reassemble you're expecting entropy to fall. That would break the second law. That's a no-no. The second law tells us what order things can happen in the universe. It gives us a clear direction for the flow of what we call time - forward. Time simply can't flow any other way because that would decrease entropy and break the second law. But where is the relentless march of time taking us? The entropy of the universe, the disorder is always increasing. Always. At some point in the far future this means that our entire universe will be in a state of total disorder, a state of maximum entropy. Scientists call it the 'heat death'. This is how our universe will end. But don't worry, this bleak fate won't come upon us any time soon. The universe will have to wait trillions and trillions and trillions more years, by which time of course there will be no humans left to see how time and entropy have ravaged our universe.
---
Universal wonders
18 VIDEOS
1:03:54
1.4m views
Get sucked into a black hole – or marvel at our sun's power - this playlist is all about the universe and how we interact with it.