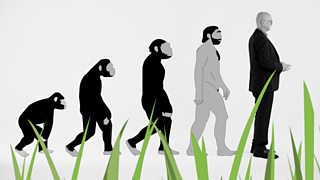 To play this video you need to enable JavaScript.
Why do we stand on two legs?
Very few creatures in the animal kingdom stand on two legs. In many ways, it's not very efficient or stable. So why do we do it?
Made by Preston Street Films, 23 August 2019
---
Why do we stand on two legs?
WHAT WE STAND FOR? MARTIN NEWMAN, Leadership Expert Humans are among the very few creatures who stand on two legs. We take it for granted but being upright is quite a skill. Take a normal four-legged chair - simple, stable, or even a three-legged stool. But try a two-legged seat... Human babies spend around 2,000 hours in their first year developing the coordination and strength to stand. It's the same amount of time an Olympic athlete puts into a year's training. Standing up is a major achievement, not only in our lives but also in human evolution. Why did we do this? We'll probably never know for sure but there's no shortage of theories. Hunters needing to take food home from the site of a kill or conserve energy to outrun other animals. Perhaps it was to carry and protect babies or was it for sexual display? Some say it was our environment, as forests died back it became easier to find food by walking and by climbing. And the higher your head, the further you can see. Plus being upright means less of your body exposed to the midday African sun. So maybe we stood up just to stay cool. There is agreement on one thing, standing freed our hands to become immensely sensitive and versatile tools and with that came a big increase in brain capacity. So from many points of view, standing is clearly a very good idea, giving us a whole new level of control and power. However, out of the millions of species on this planet being a permanent biped is incredibly rare. Some animals, baboons and bears, meerkats and chimpanzees can occasionally pull off a two-legged trick but permanently? Something we share with only a very few creatures on Earth. Like some obscure rodents, wallabies, ostriches and the giant pangolin. Turns out this biped thing is quite tricky. Think of robots tech companies have invested massively to crack this problem of how you get a robot standing up on two legs. And the Daleks? They don't even try. So while they can destroy the universe, they can't chase the Doctor up a flight of stairs. We pay a high physical price for our standing chronic strain to our backs and our knees. Truth is, standing may give us power but it comes with exposure and vulnerability and that's what opens it up to manipulation. Here's an example, man and woman standing, simple. But is it? Let's take a look at how they're standing. The man standing firm, planted on two legs, the woman, precariously balanced on just one. What does that tell us? In every culture you can find different ways that society tries to teach us when to stand, when not to stand. Politicians play on our hopes and fears by telling us that we are broken or on our knees and that they and they alone have that magic that will make us stand tall and proud once more. In fact we're so obsessed about standing we talk about it all the time without even realising. How we stand also speaks volumes about how we're feeling. So no wonder many public speakers like to hide their legs behind a podium because how you're standing can reveal too much. If you see someone looping one leg behind the other half balanced on that point you're going to wonder insecure, uncertain? Or if you see someone with their hip jutted out you might read that as quite a sexual statement. Hands on hips? Is that reinforcing core strength and powerful or is it perhaps defensive? Slouching, well, quite clearly you're not exactly on top of the situation. Changing the way you stand can actually change the way you feel and how others feel about you. But beware, if your stance doesn't look genuine it may invite mockery. Own the way you stand. Standing is not only a state of body, it's a state of mind.
---
The body - a very human obsession
A playlist about the human body and its parts - from feet to skin to nipples - and what they represent to us.