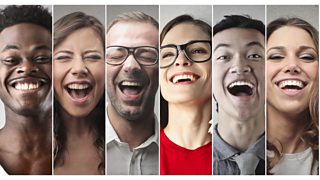 To play this video you need to enable JavaScript.
Why do humans laugh?
It's not just a laughing matter - laughter benefits our minds, our relationships and our bodies. Neuroscientist Sophie Scott explains how.
Published on 12 April 2021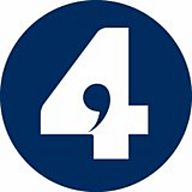 Based on a programme from
---
Why do humans laugh?
SOPHIE SCOTT, Neuroscientist & stand-up comedian: Laughter is a social emotion, so we're 30 times more likely to laugh if there is somebody else with us than if we're on our own. And we'll laugh more if we know those people, and we'll laugh more if we like those people. NARRATOR: Why do humans laugh? SOPHIE SCOTT: We laugh to show that we agree with what someone said. That we remember the same thing that they're alluding to. People will also use laughter to try and mask other emotions. People will laugh to try and pretend they're not upset or to cover up being angry or embarrassed or in pain. People will use laughter to get other people to do things. If you get someone laughing, they will tell you more intimate details about themselves. NARRATOR: There are two main kinds of laughter, according to Sophie. SOPHIE SCOTT: The first is sort of spontaneous laughter, if you think about laughter that happens and you cannot stop laughing, it can sound like this: SOPHIE SCOTT: The laughter just overwhelms you and then you're just going to have to ride it out. That's quite a different kind of laughter from the sort of laughter you find in conversations, which is of course most of the laughter you encounter, and that sounds more like this. SOPHIE SCOTT: There laughter is really brief and it's shared, people tend to laugh together, and they laugh together in a very coordinated way. People laugh at the ends of sentences. And that's actually quite interesting, because it's even the case if somebody's having a sign language conversation where they could laugh all the way through, they don't, they still laugh together at the ends of sentences. NARRATOR: So why can laughter sometimes feel contagious? SOPHIE SCOTT: You can probably think of occasions when you've been watching television or listening to the radio, maybe it's been broadcast live, and the presenter or presenters start to get the giggles. CAPTION: BBC RADIO 4 ANNOUNCER CHARLOTTE GREEN READING THE NEWS IN 2008 CHARLOTTE GREEN: The award-winning screenwriter, Abby Mann, has died at the age of 80. He won an Academy Award in 1961 for Judgement at Nuremberg. Ab-- Excuse me, sorry. Abby Mann also won several Emmys, including-- Including one in 1973 for-- For a film which featured a-- (giggling) A police detective called-- (laughter) NARRATOR: If you chuckled while listening to that clip, here's why. SOPHIE SCOTT: It's called behaviourally contagious phenomena, which are things you can catch from somebody else just because they're doing them. You might have noticed this happens with yawning, it happens a lot with laughter. SOPHIE SCOTT: Babies don't show any behaviourally contagious phenomena, and effectively we teach them to. So if you look at babies and parents, parents will try and make babies laugh, and babies do laugh and it's lovely. If the parent laughs, the baby doesn't join in. But if the baby laughs, the parent does join in, because the contagion is working. And effectively that seems to be the root whereby we start to teach babies that this is something that we do together. NARRATOR: Laughter isn't exclusive to humans. SOPHIE SCOTT: We know that laughter is extremely easily observed in other apes. So gorillas laugh, chimpanzees laugh, orangutans laugh, and they laugh in a very, very similar way to humans. The main difference is that chimpanzees, for example, laugh on an exhalation and an inhalation, so we just laugh ha-ha-ha, breathing out, chimpanzees do more like a ha-ah-ha-ah, sounds a bit like he-eh-he-eh. So chimpanzees use laughter in a pretty complex way much as we do, and it happens in the same situations. It's associated with tickling, with play, with trying to make play last longer. NARRATOR: And it's not just primates. Laughter-like behaviour has also been described in rats and parrots. Unfortunately laughter can also have a darker side. SOPHIE SCOTT: These big squeezes that you do with your ribcage when you laugh, particularly if you're laughing really hard, it's quite stressful for your heart and your lungs and that can mean if you have some sort of problem maybe with your heart or your lungs or your blood vessels, you can put them under more strain. And throughout history there are examples of people who have died laughing. And I think, if you're going to have to go somehow, probably going while you're laughing, there could be worse ways. NARRATOR: Luckily there are lots of health benefits to laughing too. SOPHIE SCOTT: You are more relaxed when you laugh. So as soon as you start laughing, you get a reduction in adrenaline. You also get an increased uptake of the body's naturally circulating endorphins. Now that is because you do quite a lot of exercise at your ribcage when you laugh. It's exactly the same as a runner's high or the good feeling you get after exercising. And interestingly that's true of laughter even if you've completely faked the laughter, so it does suggest that it's something to do with the ha-ha-ha movements. NARRATOR: So if you want to get your endorphins going, you can start by laughing out loud. And if you're by yourself and have no one to laugh with, here's something that might help. Woman: Oh my god. Oh! Where did you find that? What is that? (laughing)
---
How it feels to be human
Happy? Sad? Both simultaneously? This playlist guides you through the myriad emotions that make us human – and how to understand them.