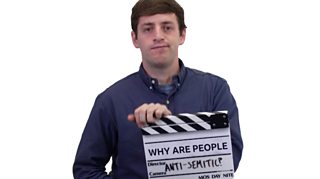 To play this video you need to enable JavaScript.
Why are people anti-Semitic?
As part of our series on the root causes of various forms of prejudice, US comedian Alex Edelman explores what's behind anti-Semitism.
Made by BBC Northern Ireland, 20 December 2019
Prejudice unpacked
4 VIDEOS
18:30
170.4k views
Why do people hold prejudices - like racism, homophobia and sexism? We explore some of the root causes.