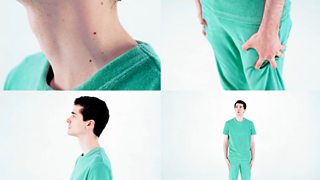 To play this video you need to enable JavaScript.
Where do phobias come from?
Scared of spiders, holes, heights...? Phobias are very common. But why do we have them? (P.s. all characters in this film are actors.)
Made by Shakehaus, 19 December 2019
---
Where do phobias come from?
What's going on inside you when you're having a phobic reaction? In your brain the amygdala recognises this is a danger situation. The hypothalamus triggers your fight or flight response. And the hippocampus takes note of your fear. It will remind you next time. Your breathing gets quicker, your pulse speeds up, you sweat, your muscles tense, there's more glucose in your blood, increasing your energy. For most people, the pre-frontal cortex, the rational, uniquely human part of the brain, can calm the amygdala down. But if you have a phobia, that process doesn't quite work. Your brain's constantly stuck in tiger attack mode. WHERE DO PHOBIAS COME FROM? The first phobia in history belonged to a man who was absolutely terrified of flute music, but only at night. This was described 2,500 years ago by the Greek father of medicine, but Hippocrates didn't use the word phobia, this came 500 years later when the Roman author Celsus used it to describe a disease... which we now know as Rabies. Celsus took the word phobia from the Greek god Phobos, who was so terrifying that warriors would paint his face on their shields to scare their enemies. One of Freud's most famous case studies was a boy called Little Hans who developed a terror of horses after seeing one collapse in the street. Freud thought that this was really an unconscious fear of his father and related to sexual feelings for his mother. Modern psychoanalysts still believe that phobias can be caused by secret internal conflicts like this. Another theory is that at least some fears are innate. One study showed young infants images of spiders and snakes and found that their pupils dilated, a sign of fear. Or intense focus. The theory is that fear of spiders and snakes gave us an evolutionary edge. Around 5% of people have these phobias. And perhaps the same mechanism left us with other common phobias, a fear of heights, darkness, confined spaces, all dangerous when we were evolving. A huge number of phobias have been spotted and named since Little Hans. There's... iatrophobia ...the fear of doctors. Pogonophobia...the fear of beards. And... deipnophobia ...fear of dinner conversation. We may not know the root cause of phobias, but we do know how they develop. You can catch a phobia by seeing other people's fear. You can be taught a phobia, learning about germs can lead to bacillophobia. Or you can get a phobia by having a traumatic experience, especially in childhood. Despite all that, common phobias are quite similar across cultures. But one of the few that's culturally specific is taijin kyofusho, the Japanese phobia of embarrassing other people. All the phobias we've mentioned are classed as... simple phobias… fear of specific things. But there are two complex phobias. Social phobia is triggered by being around people you don't know, and agoraphobia by being away from home, especially without escape routes. Whilst these are serious conditions, they can be treated with therapy and medication. Simple phobias, despite the suffering they cause, are easier to treat. The NHS recommends Cognitive Behavioural Therapy, with a therapist helping you to gradually get used to whatever it is you fear. So if a phobia's getting you down, why not pop in and see your doctor? Unless of course you're iatrophobic, in which case, it's probably better to have a word with the nurse.
---
The extraordinary human brain
30 VIDEOS
2:19:32
2.3m views
The human brain is extraordinarily complex. These videos will help you understand it a little better...