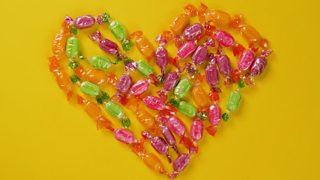 To play this video you need to enable JavaScript.
What's the difference between love and lust?
Feeling giddy? Butterflies in your stomach? What's going on in your body and your brain when you fall in love.
Made by We Are Tilt, 12 May 2022

---
What's the difference between love and lust?
Academic consultants for The Open University: Dr Claire Rostron, Senior Lecturer, School of Life, Health & Chemical Sciences NARATOR: Lovesick, head over heels, butterflies in the tummy. We all have ways of describing what love feels like, but what is actually going on in our brains when we fall in love? And how do we know how to distinguish lust from love? CAPTION: WHAT IS LOVE FROM A NEUROSCIENTIFIC PERSPECTIVE MADE IN PARTNERSHIP WITH THE OPEN UNIVERSITY According to Helen E Fisher, from Rutgers University, there are three aspects of romantic love. Often lust comes first, but not always. For some people who are asexual, it may not happen at all. But for those who do experience lust, it's driven by the hormones oestrogen and testosterone. They affect our libido, the sex drive. It may feel purely carnal, but in fact it's about the urge to mate and pass on your DNA via offspring. Without lust, it's fair to say our species would not survive. The second aspect of romantic love is attraction, influenced by a neurotransmitter called dopamine. This is a feel-good substance released in our brain that is involved in driving us towards reward. Do something, get a dopamine hit, feel good. Eventually dopamine will push us toward repeating that behaviour. This is why intense attraction feels like an addiction to another human being. Some people get stuck in that loop, always chasing the dopamine-soaked excitement of a new relationship. Might as well face it - you're addicted to love. Dopamine also dampens the region of the brain that regulates critical thinking and rational behaviour. People often stay in this somewhat irrational honeymoon period for up to 18 months. Another hormone that plays a role in attraction is norepinephrine which is involved in generating the physiological responses we experience in this state. Think sweaty palms, heart fluttering, breathing faster. In that sense, strong attraction is similar to a state of stress, but it's good stress, because we associate these sensations with positive things such as the sight, sound, or even the smell of our lover. The third aspect is attachment or bonding. There are two other hormones at work here, oxytocin and vasopressin. Oxytocin, known as the cuddle hormone, is released during sex and skin-to-skin contact. This heightens feelings of security and contentment which help forge deep bonds with a mate. In some people, negative experiences as a child can affect the oxytocin system making it harder for them to form attachments as adults. But thankfully, with the right kind of therapy, our brains can be rewired to form healthy relationships. As for vasopressin, this is released directly after having sex and it too produces feelings of contentment. This may have a taming effect on more promiscuous people by triggering the neural reward system, encouraging you to want to stay with the person you love. And all being well, with time, love can morph into something stable and fulfilling. Research has shown that kindness plays a key role. You could say that a long-term bond is a continuous exercise in kindness. Of course, love can also have a darker side. Obsessive, jealous behaviours can be intensified by falling levels of serotonin, a mood-levelling hormone. And we all know that love doesn't always last, and when it doesn't, it hurts. Heartbreak is real. It's known as broken heart syndrome and can even be mistaken for a heart attack. The emotional stress that accompanies break-ups releases chemicals that usually signal physical pain, so our brain interprets the break-up as intensely painful. But despite the heartbreaks, the sweaty palms, and the irrational behaviour, people fall in love and stay in love every minute of every day. Because those dopamine hits can feel amazing. So even if it doesn't always feel like it, the head really does rule the heart.
---
The Open University
32 VIDEOS
2:44:43
4.2m views
From resilience, to prisons, to sport psychology and climate change... dive into this playlist made in partnership with The Open University.