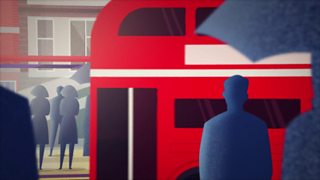 To play this video you need to enable JavaScript.
What would the UK be like without immigration?
Jonathan Portes of King's College London argues that the economy and society of the UK would be markedly different without immigrants.
Animated by We Are Covert, 14 January 2020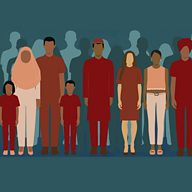 Made in collaboration with
---
What would the UK be like without immigration?
1 00:00:00:02 00:00:08:24 JONATHAN: Over the last two decades, immigration to the UK has run at rates unprecedented in our history, changing many aspects of our society and our economy. 2 00:00:09:06 00:00:09:08 CAPTION: WHAT WOULD THE UK BE LIKE WITHOUT IMMIGRATION? A viewpoint by Jonathan Portes, Professor of economics 3 00:00:09:16 00:00:14:17 JONATHAN: But what would Britain look like without immigration? How different would our lives be? 4 00:00:15:06 00:00:29:23 JONATHAN: Well, some of us of course wouldn't be here. About one in seven people living in the UK was born abroad. That's up from less than half of that at the turn of the 21st Century. Without immigration, the UK's population would have been shrinking for quite some time. 5 00:00:30:10 00:00:46:17 JONATHAN: If you think we're a small crowded island, that might sound good. Although remember, only 6% of the UK's land area is built on. Our highstreets would look rather different, there would certainly be less traffic in our most populous cities. Less curry certainly, and fewer kebab shops. 6 00:00:47:05 00:00:58:14 JONATHAN: More fish and chip shops perhaps? Although guess what, it was Jewish immigrants who invented that dish back in the 1860s. And when populations shrink, places hollow out. 7 00:00:58:19 00:01:10:24 JONATHAN: In the 1970s, when more people were leaving the UK than arriving, the population of inner London fell by more than 20%. Jobs, growth, tax receipts all fell - only crime was on the up. 8 00:01:11:09 00:01:24:08 JONATHAN: It looked like London might go the way of Detroit. Not anymore. And perhaps more noticeable than fewer people would be that we'd be on average much older. More than a third of babies born in the UK have at least one parent from abroad. 9 00:01:24:10 00:01:40:12 JONATHAN: So our schools would be a lot emptier, but hospitals, nursing homes and residential care wouldn't be. Unless we got a lot better at training medical staff, we'd have fewer nurses and doctors. Just look at what's happened since the Brexit vote, but they still have almost as many old people to look after. 10 00:01:40:14 00:01:52:24 JONATHAN: And with far fewer workers to pay for them, either pensions would be lower or taxes would be higher. Because while immigration does add to the demand for services like the NHS, schools and pensions, immigrants pay taxes. 11 00:01:53:08 00:02:05:24 JONATHAN: And overall, they pay in more than they take out. So whatever you think of austerity, things would be worse if immigration had been lower. The current welfare state would be unsustainable, the numbers just wouldn't add up. 12 00:02:06:08 00:02:21:15 JONATHAN: With less competition, wages might be higher for some low paid workers but not by much, and not by enough to outweigh the wider economic downsides. Most of us would be poorer. Just like trade, immigration has made the UK a richer, more productive economy. 13 00:02:21:24 00:02:36:13 JONATHAN: We don't just rely on immigrants for nurses, construction workers and fruit pickers. Without immigration, our world-leading universities would no longer be world-leading. Well over half of research staff in science and engineering subjects are from abroad. 14 00:02:36:15 00:02:54:19 JONATHAN: Nor would London have become a global financial hub, or Cambridge a centre for biotechnology. If you want another example, look at football. Champions League and Europa League finals were an all-English affair. But with all four clubs managed by foreigners and a remarkably diverse set of players. 15 00:02:55:04 00:03:13:09 JONATHAN: Beyond economics, the country would look and feel very different. Almost all of us would be white, we'd be much more... This would be less noticeable in some sectors than others. High Court judges, prison staff and army officers would look pretty much the same as they do now. 16 00:03:13:11 00:03:20:17 JONATHAN: But we'd be less connected, less global, and more insular. The overall balance sheet? Well, that's up to you.
---
BBC Briefing
6 VIDEOS
25:34
338.8k views
From climate change to housing to immigration - all the videos in this playlist have been made in collaboration with BBC Briefing.