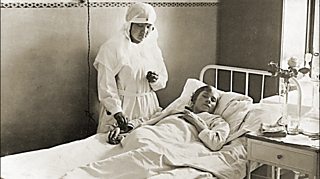 To play this video you need to enable JavaScript.
What would a world without vaccines be like?
Thanks to vaccines, many of us have grown up without fear of contracting diseases such as polio and diphtheria. Do we take them for granted?
Made by Angel Sharp Media, 17 February 2021

---
What would a world without vaccines be like?
ROBIN BUXTON, Polio Survivor: I was born in Uganda in 1950, and a year and a half later I slipped out of bed one day and I collapsed on the floor. My parents immediately thought, "Oh, it's polio". MELINDA MILLS, Director, Leverhulme Centre for Demographic Science, University of Oxford: It would be hard to imagine what a world without vaccines would be like. NILAY SHAH, Deputy Director, Future Vaccines Manufacturing Hub, Imperial College London: It would really be quite horrible. There would be outbreaks of disease regularly, all over the world. MUSTAPHA BITTAYE, Postdoctoral Researcher, Jenner Institute, University of Oxford: I don't think I would be here in a world without a measles vaccine. MELINDA MILLS: The true deep impact, and the global impact, of vaccines just can't be over-estimated. CAPTION: WHAT WOULD A WORLD WITHOUT VACCINES BE LIKE? ROBIN BUXTON: My grandmother, she used to tell a story about when they would hear the bells on a hearse going down the high street, a funeral. She said as children they would rush to their nursery window to see if there were white ribbons on the horses which meant it was a child funeral, and they happened several times a week. CAPTION: POLIO IS A HIGHLY INFECTIOUS VIRAL DISEASE. IT CAUSES IRREVERSIBLE PARALYSIS IN 1 IN EVERY 200 CASES. ROBIN BUXTON: It typically affected children. One of the names for polio was infantile paralysis. CAPTION: THERE IS STILL NO CURE FOR POLIO, BUT A VACCINE WAS DISCOVERED IN THE 1950S. THANKS TO THE SUCCESS OF THE VACCINE, POLIO HAS NEARLY BEEN TOTALLY ERADICATED WORLDWIDE. THERE ARE NOW VACCINES FOR MULTIPLE DISEASES... 1796, 1880, 1890, 1921, 1932, 1952, 1963, 1970, 1981, 1991, 2006, 2015, 2020. SMALLPOX, CHOLERA, TETANUS, RABIES, TYPHOID FEVER, BUBONIC PLAGUE, FLU, YELLOW FEVER, WHOOPING COUGH, TUBERCULOSIS, POLIO, TYPHUS, DIPTHERIA, SCARLET FEVER, ADENOVIRUS 4 & 7, ANTHRAX, MEASLES, MUMPS, RUBELLA, JAPANESE ENCEPHALITIS, HiB, Q FEVER, MENINGITIS, CHICKEN POX, HPV, LYME DISEASE, HEPATITIS A, HEPATITIS B, ROTAVIRUS, MALARIA, DENGUE FEVER, ENTEROVIRUS 71, HEPATITIS E, EBOLA, COVID-19 NILAY SHAH: It's quite difficult to imagine a world without vaccines. Life expectancy would be a lot lower. People would have to lock themselves away and only come out again when it was safe. And ironically, there would be such a demand to do something that vaccines would inevitably emerge. MELINDA MILLS: Vaccines are likely the most important public health intervention of the last 100 years. They've saved over a billion lives. CAPTION: THE WORLD HEALTH ORGANISATION ESTIMATES THAT 2-3 MILLION LIVES ARE SAVED EACH YEAR DUE TO VACCINATION. MUSTAPHA BITTAYE: With the roll out of vaccines we have seen a massive reduction in child mortality in sub-Saharan Africa. CAPTION: SOME OF THE MOST IMPORTANT VACCINES RECOMMENDED BY THE WHO NOW REACH OVER 80% OF ONE-YEAR-OLDS. MUSTAPHA BITTAYE: I am born in the Gambia and growing up there I lost a brother to measles. To lose somebody at a very premature age from a disease preventable by vaccines is absolutely devastating. CAPTION: IN 1990, 5.1 MILLION CHILD DEATHS OCCURRED GLOBALLY DUE TO VACCINE-PREVENTABLE DISEASES. THIS DROPPED TO 1.8 MILLION IN 2017, JUST 27 YEARS LATER. MUSTAPHA BITTAYE: Vaccines can prevent cancer and there are two cancer vaccines. CAPTION: HUMAN PAPILLOMAVIRUS (HPV) CAN CAUSE CERVICAL CANCER, WHILE HEPATITIS B CAN CAUSE LIVER CANCER. HPV AND HEPATITIS B ARE BOTH PREVENTABLE BY VACCINE. MUSTAPHA BITTAYE: With the roll out of the current malaria vaccine we are expecting to see a reduction of 40% of malaria deaths. CAPTION: "IF INTRODUCED WIDELY, THE [MALARIA] VACCINE COULD SAVE TENS OF THOUSANDS OF LIVES PER YEAR." THE WORLD HEALTH ORGANISATION MELINDA MILLS: You could bring a vaccine to people but will they take it? Anti-vaccination fears have been around for over a century. We know from the 1850s, when Jenner first developed smallpox vaccine there were actually quite a few protests. A lot of it was about civil rights and libertarian values. There were arguments saying that it was poisonous, that children who received a smallpox vaccine would develop bovine or cow-like traits. A lot of it was just a genuine knowledge void that a lot of people had in the 1850s that they still have today. On the one hand we have the really hardcore anti-vaccination groups, but a lot of people are actually in the middle, and I think what we need to do is just engage with people where they are and where they are talking and not discount their real concerns. People want to understand things, they want to be confident, they might be afraid of needles. We have to understand their context and where they're coming from and what are their past experiences with health and vaccines. We have to ensure that people understand it and they will take it. MUSTAPHA BITTAYE: Having vaccines that people don't take will not serve any good. It's vaccination that protects, not vaccines. MUSTAPHA BITTAYE: A world without vaccines, it would be a matter of economic status where the children of the wealthy will have access to healthcare will be surviving. Vaccines are the only public health intervention that can bring equality. So women don't need to have five, 10 children just to see three of them grow to old age. MELINDA MILLS: This isn't about just individual rights, when you take a vaccine it's protecting yourself, it's protecting your family, and it's protecting your community. ROBIN BUXTON: It's not just a personal choice, it's a moral choice as well that affects other people. MELINDA MILLS: It's impossible to [over-]emphasise how important vaccines are. And the reason that we don't often realise that they're important is that we've eradicated many of these diseases. ROBIN BUXTON: The idea that vaccines could be a victim of their own success, it's about taking things for granted, isn't it? And not looking behind what the privileges we have in the modern world are, and what makes it the modern world, and makes it a safe place for most of us to be, and vaccines are absolutely at the heart of that. They're fundamental.
---
Made in partnership with the Royal Society
From the wonder of soil, to how the world defeated smallpox... dive into this playlist made in partnership with the Royal Society.