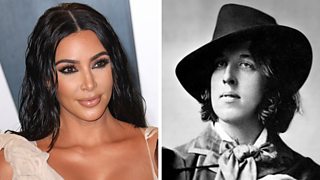 To play this video you need to enable JavaScript.
A brief history of celebrity
Have we always had celebrities? And how are our ideas of celebrity changing? A brief cultural history of celebrity.
Made by Jono Namara, 24 March 2020
---
A brief history of celebrity
MITZY AKAHA, actor: It's much easier now to gain fame. But it's harder to last! TYNE O'CONNELL, author and historian: You know, I want to be famous like the Kardashians, who are famous for just being famous. TOM PAYNE, author Fame: from the Bronze Age to Britney: Fame, in its earliest forms, is some sense that human beings need something beyond themselves. So they almost invented gods as a way of explaining what happened next. And if there are gods, there's going to be contact with gods - some people are going to be closer to them than others. TYNE: The word celebrity itself in the 1400s still meant the celebration of the sacred. PROF CHRIS ROJEK, Sociologist, City, University of London: The period where the nature of fame changed from people attributing god-like qualities to it, was when Charles I was executed. Something big had changed. And part of that is this sense of self-making that becomes prominent at this period - the idea that you don't have to be rich, you do not have to be an aristocrat, to be a person of fame. We begin to enter into a situation where the people become celebrities. JOHN COOPER, author, Oscar Wilde on Dress: He represents the cult of personality that we now know today. Oscar really was a nascent celebrity. His philosophy of life was that the point of life is self-realisation, just as the point of art is self-expression. You have to bring out what is inside you. CHRIS: The famous people in the 1880s were politicians, scientists, doctors, writers. By 1920, it was singers, sportsmen, actors. And the reason for that is the invention of film, which gives you the illusion of being in touch with somebody and close to them and forming bonds with them, without ever meeting them. CLAUDIA KALB, author Inside the Minds of History's Great Celebrities: Warhol was at the time, in the 60s, creating this real buzz around him and creating this iconic figure that people flocked to. And he certainly influenced the people and the scene around New York City. And you could think about that today with people who really influence the social scene today - whether it might be somebody like Kim Kardashian, and the followers that she has, who want to look like her physically. There's a draw to wanting to be that figure, and wanting to be that famous. Think about Warhol right now in this era that we live in with everybody taking selfies and these images of themselves, and thinking back to Warhol when he filmed himself eating a hamburger. I mean, he was one of the pioneers of turning the camera on oneself. CAMILLE TANOH, Fashion designer/influencer: Think about Andy Warhol was an iPhone. That would be the best Instagram account to follow, right. CHRIS: Why so many people are attracted to celebrities is that we live in an age of profound anxiety. Part of that is wanting acceptance and approval in life. You want to be accepted by people, and you want to be approved by people. Who are the people that have paid most to be accepted and approved? Celebrities. CAMILLE: Some people document their life, which means that they don't lie - they just have a camera rolling. And some people create their life, so they actually stage a picture. They actually stage an outfit. I think that this will be the difference between a good influencer and a bad influencer. MERY RACAUCHI, Musician/influencer: You have to be real, because people will feel that whatever you're telling them to do, if it's not real and if he doesn't come from your heart and whatever you believe in, they know. MADDY MOON, Podcast host/influencer: I strongly believe that the more you go into the pieces of you that most people would hide, the better of an influencer you are going to be. The more you're sharing things that people are like, "What? I'm that way too." That's when people get excited. That's when they want to follow you. TOM: And it could just be that this smaller kind of fame - this idea of finding your niche or your tribe - people may come more or more to value smaller, individual acts of kindness and of love, and become celebrated for them.
---
A brief history of...
27 VIDEOS
1:57:09
1.9m views
This playlist has bite-size guides to all sorts of fascinating topics. Guaranteed to expand your mind....