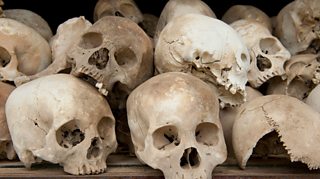 To play this video you need to enable JavaScript.
Understanding the mechanics of hatred
BBC journalist Allan Little explores how hatred has been whipped up and disseminated throughout history.
Published on 30 August 2019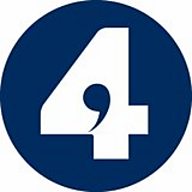 ---
Understanding the mechanics of hatred
Caption: What does it take to hate? Caption: by Allan Little, for BBC Radio 4 Allan Little: Hatred is a powerful motivating force. It can stir huge numbers of people to inhumanity. Combine it with fear, and it becomes the means by which ordinary people can be persuaded to murder their own neighbours. To take part willingly, even gladly, in genocide. Allan Little: How? Allan Little: How is such passionate intensity planted in a population? What are the mechanics of mass hatred? It is more commonplace than you might think, and more ordinary too. Allan Little: The perpetrators do not think of themselves as murderers. While much of the world looks on in horror, they see themselves as misunderstood. They are in their own minds committing acts of great virtue, performing a public service. Allan Little: Often they have weaponised history. They bought a version of the past in which they are the true victims. Generations of their ancestors have been enslaved, and history has granted them the chance to right the ancient wrong and to liberate themselves from the ancient oppressor. Allan Little: Poetry and song reinforce a shared sense of righteousness. We saw this in Bosnia in 1995, when up to 8,000 Muslim men and boys were murdered by Bosnian Serb forces at Srebrenica. Here, many Serbs believe they were completing the historic task of liberating Serb lands from centuries of Ottoman rule. Caption: BBC News July 1995 BBC 1995 Reporter: The Serbs were mutilating some of those they caught, said this man, he saw soldiers cutting off noses, ears and limbs. Claims which can't be corroborated, but the stories of Serb atrocities are too numerous and too consistent to be discounted. Allan Little: Members of the enemy group are stripped of their humanity. The language of pest control was mobilised too, in the 1994 Rwandan genocide. Members of the Tutsi group were described as, "Vermin, cockroaches, unclean, carriers of contamination that must be eliminated." Caption: BBC News May 1994 BBC 1994 Reporter: This is Bosco, a young illiterate farmer and the self-confessed murderer of five of his neighbours. Translator: We did it because we were forced to by the government. They made sure we killed every Tutsi so that, if the rebels came into power, there'd be no Tutsi's left. Allan Little: In both Bosnia and Rwanda, the state, the churches, the newspapers, the radio and television stations, the poetry, the pop songs, allied themselves to a vast criminal enterprise that drew in large numbers of ordinary people. Allan Little: These were not sudden outbursts of mutual loathing spontaneously arising. They were planned, funded, guided, in pursuit of a political goal. Allan Little: Half a century ago, the United States believed in the virtue of its war in Vietnam. It was defending liberty in Asia against the evils of communism. US president Lyndon Johnson told the American people that their soldiers were pushing forward the frontiers of a founding American principle freedom. Caption: President Lyndon B Johnson Nov 1967 President Johnson: No-one likes war, all people love peace. But you can't have freedom, Miss Handsman, without defending it. Allan Little: But in 1969, when reports that hundreds of ordinary people had been murdered by US serviceman in the village of My Lai came out, it shocked the world. Allan Little: My Lai had not been a regrettable one-off atrocity, but part of a pattern. American serviceman had been trained deliberately to hate to see all Vietnamese, including women and children, as dangerous enemies. Allan Little: Even in the world's most developed democracies, where the rule of law is entrenched in the constitution, mass hatred can be mobilised to draw people into violence. Allan Little: But hatred can be reverse engineered too. In South Africa, I watched a nation find its way out of a dark and unsustainable history. Allan Little: The apartheid state was built on hatred and fear. It was legalised white supremacy. The majority black population was dispossessed over generations. Panorama narrator: Signs of separation are everywhere on public and private buildings. Caption: Panorama June 1957 Panorama Narrator: Africans must go to their own cinemas and not to Europeans. At this place, Africans must queue to get their passes. They must carry them everywhere. If the police stop an African and he has forgotten his book of passes they put him into jail. Allan Little: But the black liberation movement offered the white population an alternative. It pursued freedom not through the conquest of one group over another, but through an idea, the idea of inclusion. That South Africa could belong to all those who lived in it. Allan Little: In the 1990s, after the release from prison of Nelson Mandela, the country's former enemies converged on this shared vision and turned the page on organised hatred. Nelson Mandela: Because I can see the rainbow nation rising. Caption: BBC News May 1996 Nelson Mandela: I can see men and women who are now beginning to break loose from the shackles of political indoctrination. It found a way to offer future generations an alternative, to walk back from hatred toward hope.
---
How it feels to be human
Happy? Sad? Both simultaneously? This playlist guides you through the myriad emotions that make us human – and how to understand them.