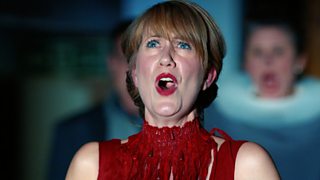 To play this video you need to enable JavaScript.
Think you don't like opera? This film is for you
Confused or put off by opera? Let's see if we can change your mind! Here's a five minute introduction for the non-opera-aficionado.
Made by Mat Hale, 23 December 2019
---
Think you don't like opera? This film is for you
Sophia: Yes, it can feel difficult to understand, long or old-fashioned. But it's also as entertaining and provocative as an art form can get. Sophia: This is a film about opera, for those who think they don't like it. Caption: Sophia Smith Galer BBC Journalist (and trained opera singer) Sophia: So the basic plot is this. It's 1585, England, and we open on two queens. Elizabeth I feels threatened that her cousin, Mary Queen of Scots, is going to take the English throne. Caption: Elizabeth I Mary, Queen of Scots (Maria Stuarda) - UpCloseOpera Sophia: At the heart of every opera lies drama, and in the 1800s, composer Gaetano Donizetti was drawn to the tragic story of Mary, Queen of Scots. Sophia: This opera is called Maria Stuarda and we're listening to it now in its English translation. Earl of Leicester: ♪ Your Royal Highness will see through her devices ♪ Sophia: Elizabeth has put Mary under house arrest and is trying to decide whether to pardon her or execute her. Earl of Leicester: ♪ But your true safety must be through her execution ♪ Elizabeth I: ♪ Stop! ♪ Sophia: There's a love story too. Elizabeth I is in love with her adviser and confidant, the Earl of Leicester. The problem is Leicester is in love with Mary. Earl of Leicester: ♪ I love you! And have come here to save you from your suffering ♪ Sophia: And Elizabeth is jealous. Elizabeth I: ♪ She's using you to get to me. But no, I will not have it ♪ Sophia: There are two different types of things that you can sing in an opera. One of them is recitativo, which moves the plot along and is a bit more like speak singing, so for example, ♪ I have to leave in an hour ♪ Sophia: And an aria is a song where you tell the audience how the character is feeling, you explore those emotions, so it might be more... ♪ I am so hungry, so hungry ♪ Sophia: Back to Mary, Queen of Scots, this is the pivotal point in the opera where the two queens meet. We know that this meeting didn't happen in real life, but dramatically you need it - you need this final confrontation so that you can have the final resolution. Sophia: These two queens are two sides of the same coin, and that's why they're here mirroring each other, both dramatically and musicåally. Sophia: Then, as the insults start, Donizetti adds pauses to the music, and they're really important because they allow both the characters and the audience to understand the gravity of what has been levied at each other and the hurt. Sophia: Donizetti cast both Mary and Elizabeth as sopranos, and that's interesting, because you don't normally cast both leading ladies with the same high voice classification. But it makes total sense as they were rivals volleying for power. Mary: ♪ The shape of her features, the set of her shoulders, show sisterly feeling, will not be returned ♪ Sophia: There weren't any microphones when opera first started, so it's the opera singer's job to make sure that they're heard, not only over an orchestra, but right to the back of a theatre. Sophia: The crunch comes when Mary refuses to bow down to Elizabeth's authority. She starts hurling insults at her and she seems to have forgotten that Elizabeth here is the one with all the power. Mary ♪ Brat! ♪ Elizabeth I: ♪ Cecil, she's yours ♪ Elizabeth I: ♪ Then it's decided ♪ Elizabeth I: ♪ She dies ♪ Sophia: The story ends with Mary accepting her fate and forgiving Elizabeth. Mary: ♪ Help her carry the cross she will bear ♪ Sophia: You've got to remember that this opera is called Maria Stuarda, it's not called Elizabeth I. Mary dies the hero. Sophia: This opera forces us to see two women who were afforded crowns in an era of totally male control. We get to witness their game of thrones. And women fighting for power today might find an opera like this a cathartic viewing experience. Caption: Special thanks to Opera up Close Director/Librettist - Robin Norton-Hale Costume Supervisor - Claire Nicolas Associate Director - Sasha Amaya Staff Director - Eleanor Dodson Orchestrator - Paul McKenzie LX Designer - Jack Weir Designer - Kate Lane
---
The incredible power of music
10 VIDEOS
41:27
344.4k views
"Without music, life would be a mistake," said philosopher Friedrich Nietzsche. This playlist celebrates the role music plays in our lives.