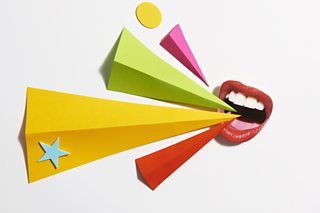 To play this video you need to enable JavaScript.
The hidden metaphors that shape our world
Metaphors are not just for poets - they're everywhere in our everyday language. And they shape the way we view the world.
Published on 6 August 2020
---
The hidden metaphors that shape our world
Breaking the ice. A thorny issue. Life's a rich tapestry. Our everyday speech is littered with metaphors. (See what we did there?) Or as the poet Paul Muldoon put it... "The impulse to find the likeness between unlike things is very basic to us." But metaphors aren't just for poets. They shape our beliefs, attitudes and actions in ways we don't even realise. So what exactly is a metaphor? At its simplest, a metaphor is X equals Y. Sometimes it's stated explicitly. Every day is a winding road. But more often metaphors are harder to unpick. Take the end of The Great Gatsby... "We beat on, boats against the current, borne back ceaselessly into the past." On first glance, we're talking about rowers fighting the pull of the current. But the image is mixed up with time, the past, the power of nostalgia. Many think the best metaphors bring colour and meaning to the everyday Author James Geary says that... "By mixing the foreign with the familiar, the marvellous with the mundane, metaphors make the world sting and tingle." But not everyone is a fan. Philosopher Thomas Hobbes compared the use of metaphors to... "Wandering amongst innumerable absurdities." Which is of course a metaphor. If we're trying to express anything abstract, metaphors are hard to avoid. Take heartbreak. Imagine your friend is going through a break up. They're probably... A complete mess. Beside themselves. Consumed by jealousy. Or perhaps they're bottling up their feelings. Some metaphors have become so familiar, they almost feel literal. Think about time again. There's the tired old metaphor... time is money I hope you spend today profitably. Thanks for being so generous with your time. What does it say about our society that we equate time and money like this? But dig a little deeper and you'll see... even the way we think about time is metaphorical. We move through it, travellers on a path, with the future up ahead and the past behind us. The American linguist, George Lakoff, called these orientational metaphors. Take the idea of up and down. He's at the peak of health. He fell ill. She's on top of the situation. He's under my control. She was able to rise above her emotions. He dragged the conversation down to his level. Lakoff also helped develop the idea of political framing. The words we choose affect how we perceive and deal with social issues and help decide what becomes publicly accepted common sense. And metaphors play a huge role in that. We often talk about the battle or fight against cancer But a 2019 study suggests military metaphors like this could actually undermine cancer treatment, make people feel fatalistic about their chances and even put implicit blame on those who don't survive. Crime is another area full of metaphor. We have crime waves. The criminal underworld. Crimes committed in cold blood. But what effect might metaphors really have? In 2011, a Stanford study gave one group a pamphlet describing crime as a wild beast preying upon a city. A second group were given a different pamphlet describing crime as a virus plaguing the population. When asked how to tackle the issue, the first group were 20% more likely to endorse stricter policing than the second. So the metaphors we choose matter. Not just for our beliefs, but potentially for our laws, our politics and our treatment of each other. Lakoff and his co-author Mark Johnson put it like this... "The people who get to impose their metaphors on the culture get to define what we consider to be true." Or to adapt a well-known example... Knowledge (of metaphors) is power
---
The wonderful world of words
25 VIDEOS
1:19:40
2.2m views
This is a playlist for people who love words (lexophiles, if you will), grammar geeks and anyone who appreciates a damn good sentence.