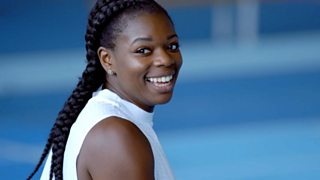 To play this video you need to enable JavaScript.
'Mental toughness is the secret to success'
British gold medal-winning sprinter and former gymnast Asha Philip tells the story of her success - and her tough journey along the way.
Made by Mat Hale, 24 July 2018
---
'Mental toughness is the secret to success'
ASHA PHILIP: Some people say you have to be broken to be fixed again. My name is Asha Philip and I run. Athletics for me was just a bit of fun. It was something different and it was something new. Trampolining was my main sport and I loved it, and then I fell into double mini trampolining and then I became a world junior champion at it. I was at the world championships in Quebec. I bounced up, but when I came down I didn't land right. I could just hear the crunch. I could just see my leg pointing in a different direction. Then I just remember grabbing my leg, and then just screaming and screaming. There was nothing holding my legs together. In a heart beat, everything was just gone. Everything I worked hard for, had vanished. Everyone told me I was a write-off. So how does a child, of age of seventeen, get back up. It felt like I had lost something. I had lost a part of me. I wanted to give up. And when you're at that point of just giving up, that's when you're meant to really turn your life around, and change. It was my Mum who believed in me, and for that I believed in her. I really do question how I made it out. It was little by little. Coming in to do the rehab. Step by step you started to see improvement. The crutches went away, then I could walk, I was able to jog and then run. But then I had loads of injuries along the way. The only thing standing between success and failure, is mental toughness. It's about being resilient. Being an athlete isn't like a normal job. The gym. Strengthening. The mind work. The fitness. For one shot. For eleven seconds. There are a lot of knock backs. A lot. It's how you handle it. But it's also the most amazing release. I let out all my stresses, all my bad energy. Every time I show up to train, I have the opportunity to learn more about myself, and how to run correctly. Some people train brilliantly, but in a race they don't win. You need focus. You're in an arena of thousands of people, and you're on the start line with seven other women then you have a man holding a gun, and you have to learn to channel all this, and not panic. But there's so much going on. You've got your family in the crowd, everyone screaming, wanting you to do well, and obviously they're screaming for the girl alongside you. How do you put that all aside, and say, OK. I have to focus on myself, focus on my lane, focus on me. There are sacrifices. There are lots of ways to have fun. Go after your goals, and balance it out the right way. In the end, it's about knowing what's important to you, and what makes you thrive. That's not just athletics. That's life.
---
Deep sport
18 VIDEOS
1:14:48
874.9k views
The philosophy, psychology, science and cultural influence of sport.