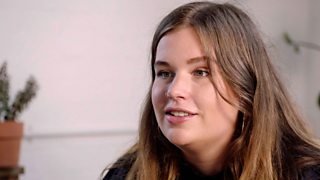 To play this video you need to enable JavaScript.
'Losing a parent made me more resilient'
Losing a parent in childhood is incredibly tough. But can the experience help set someone up for success later in life?
Made by Silverfish Films, 5 November 2019
---
'Losing a parent made me more resilient'
REBECCA GASCOIGNE, STUDENT: So my mum died when I was five. She had breast cancer. I was so aware of everything, I just didn't have the words to describe it. CAPTION: What is the impact of the loss of a parent on a child? CAPTION: And why do so many people who lose a parent when young go on to become leaders? CAPTION: MAHATMA GANDHI CAPTION: DILMA ROUSSEFF CAPTION: NELSON MANDELA CAPTION: INDIRA GANDHI CAPTION: JOHN MAJOR REBECCA GASCOIGNE: It makes you so tough because it's just like when you lose your primary caregiver when you're so young and having to overcome that is the hardest challenge. DANIELA LACOVELLA, CHILD BEREAVEMENT COUNSELLOR: When we're faced with death I think that it's like that veil kind of gets lifted up and we feel fragile. REBECCA GASCOIGNE: You are faced with just sadness and numbness and extortionate pain and sometimes it feels like a living hell. SIR ALBERT AYNSLEY-GREEN, PROFESSOR EMERITUS OF CHILD HEALTH: My dad had been admitted to hospital for what was thought to be a routine operation. My aunt appeared and she said, "Albert, your daddy has just died and you have to be the man of the house now and look after your mummy and your sister." My childhood ended. DANIELA LACOVELLA: It's almost like a table, a leg of a table coming out and so there has to be a kind of readjustment. SIR ALBERT AYNSLEY-GREEN: As a 10-year-old I wanted to become a doctor to stop other boys' and girls' mummies and daddies dying. And that was the motivation, the purpose in my life which has persisted until now. CAPTION: WINSTON CHURCHILL JULIE STOKES, PSYCHOLOGIST AND EXECUTIVE COACH: He said to his private secretary, "Have I done enough?" And his private secretary, sort of, was taken aback saying, "Of course Sir, look at what you've done world peace and so on." And he said, "No, have I done enough to make my father proud?" PROFESSOR JANE RIBBENS MCCARTHY, FAMILY SOCIOLOGIST, THE OPEN UNIVERSITY: It's called post-traumatic growth. There may be things that children and young people take from it. A greater sense of maturity, a different sense of purpose. There's something about empathy - somebody who's been through an experience like that may be a better listener. Whether that leads to leadership or not I don't know. One would like to think it might. JULIE STOKES: I think the correlation between a significant early loss, like the death of a parent, and leadership, particularly successful leaders doing great things, is probably to do with passion and drive, wanting to make a difference and somehow at some level wanting to make that person proud. CAPTION: But losing a parent can be destabilising... SIR ALBERT AYNSLEY-GREEN: There's a disproportionate number of children who end up in prison... unemployed, etc. So the downside can be simply staggering. DANIELA LACOVELLA: Everybody is different, but what we know about grief generally is that it doesn't really go away. There has been different models of grief over the years that have kind of said that it starts off overwhelming and slowly gets smaller and smaller over time but actually it's not really what we've found to be true. JULIE STOKES: What seems to make a lot more sense is this concept of growing around your grief and creating a bigger world so that you're not suffocated by the grief. SIR ALBERT AYNSLEY-GREEN: I have never, ever, been allowed to say goodbye to my dad. And that image of him on my shoulder - he never knew I'd passed 11-plus, he never knew I'd met a wonderful wife who has been with me for 54 years - that regret is also very, very powerful. JULIE STOKES: People who have done quite a bit of work on it and work on themselves and they've found a way of making sense of what happened to them and they've got this growth mindset as it's called, they can be fantastic leaders - real inspirations. They have a kind of optimism, ironically. REBECCA GASCOIGNE: I'm such a happy, optimistic person now. My identity and the things that I like most about myself are directly from being bereaved. When you reach a point where you have accepted it and reframed it into a more positive narrative you have gained so much determination, so much resilience, compared to that, everything else is nothing, it's a walk in the park.
---
How it feels to be human
Happy? Sad? Both simultaneously? This playlist guides you through the myriad emotions that make us human – and how to understand them.