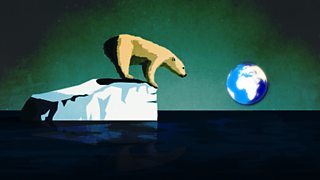 To play this video you need to enable JavaScript.
Is your pension contributing to climate change?
Sustainable finance experts Nina Seega and Steve Waygood explore the connection between your investments and the health of the planet.
Published on 18 February 2020
---
Is your pension contributing to climate change?
Steve Waygood: Money is an incredibly powerful tool for change. It can do a huge amount of good, and it can also do a huge amount of damage. Climate change isn't just about pandas and the polar bears, or the trees and the fish, it's about your pocket, it's about your pensions, your savings and your investments. Nina Seega: When we talk about transitioning to a sustainable future all of the focus is on how much is it going to cost us to move to that future? We need to move away that focus to how much is it going to cost us not to move to that kind of future? Caption: Is your pension contributing to climate change? Steve Waygood: It's now got to the point in many countries where the economic activity of that country is greater than the natural environment can support. It's said that if we all lived in the way that they do in the United States or we do here in the UK, we would need five planets worth of natural resources to make sure that we were living in a way that met the needs of the present without harming the ability of future generations to meet their own needs. We don't have five planets. To give you an example of that, forest fires. You can draw a direct line from a pension through to, for example, the fires that we're currently seeing in Australia. That line works like this. Pensions will invest in all sorts of businesses that are listed. Fossil fuel firms are part of that, extractive businesses from the mining sector are another part. Now the fossil fuel firms contribute to climate change. If people pause to think, well actually, if you have a pension, if you haven't checked, it is probable that in some way your pension is involved in that problem. Nina Seega We need to move the financial system so that it finances a more sustainable economy, not financing improvements in the fossil fuel industry coal driven power or oil but rather directing the funds towards more renewable sources. We need technological innovation that will allow us to become more sustainable, more renewable. We need the financial markets to fund the technological innovation to bring up the battery capacity that will allow renewables to be used as part of the main electricity grid. If you have a pension, that is possibly your biggest contribution to the financial market. Caption: Ask for disclosure. Nina Seega Female contributor:Ask for your pension provider to tell you whether your money is invested sustainably and what impact that money is achieving in the market. Steve Waygood: What happens if you find a company in your portfolio that you're not comfortable with? Pause and think. The easy thing to do is to just say, "I'll sell." But actually that's not the most effective thing. If you really want to make the world a better place, before you sell, use your voice as a medium of change. Ask them for their voting record. Ask them for a report on what change they've created by using their voice, which is after all your voice it's done on your behalf. Nina Seega: We have seen a number of commitments from a variety of financial firms including that of the world's biggest money manager, BlackRock. What my hope is, is that those commitments translate into action so that this year becomes the year where we're not only talking about changing our behaviour, but actually taking steps to live different lives, to change our financial system, and to change the economy and society as a whole.
---
Sustainable thinking
32 VIDEOS
2:16:59
2.5m views
A playlist featuring new, challenging and even visionary thinking around climate change and sustainability.