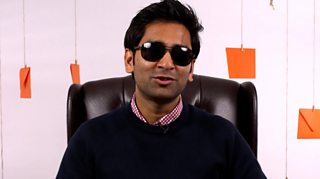 To play this video you need to enable JavaScript.
If you're blind, what do you see when you dream?
Do blind people have heightened senses? We put some of the most searched questions on the internet... to those best placed to answer.
Made by ITN Productions, 16 December 2019
---
If you're blind, what do you see when you dream?
Q. Do blind people have heightened senses? Q. What do blind people see when they dream? Q. Can blind people work? Of course we can work. ASK US ANYTHING I'm Lucy Edwards. My name is Simon Brown. My name is Dr Amit Patel. LUCY: And I'm totally blind. SIMON: And I'm registered severely visually impaired. DR AMIT PATEL: And I'm severely sight impaired. LUCY: There's all sorts of questions floating around the internet… SIMON: So let's clear the air. TEXT: We put some of the most asked questions on the internet to our guests … the questions you'd love to know the answer to, but might be too embarrassed to ask… Q. Do blind people care about their appearance? LUCY: Yes, yes, yes! We do. Just because we can't see ourselves in a mirror doesn't mean we don't want to feel good and look good. I actually wrote the first ever blind beauty guide. DR AMIT PATEL: Absolutely. I love shopping. I love going out and shopping for myself, so I rely on people in the shops to tell me, and describe things to me. LUCY: I'm obsessed with make-up. It's part of me. It's part of Lucy. Just because I went blind doesn't mean I lost Lucy. DR AMIT PATEL: I definitely take pride in how I look. Q. HAVE YOU ALWAYS BEEN BLIND? SIMON: I lost my sight in 2006. I was in operations in Iraq and I was shot in the head by a sniper. It ripped the optic nerves off my left eye and there was catastrophic compression damage to the right eye. LUCY: Age eight, I went for a routine eye check with my parents and they said, "Quick, rush her to the hospital. Your little girl has something wrong with the back of her eye." Age 11, I lost my right eye, and age 17 I lost my left eye, and now I only have a bit of light perception. TEXT: DO BLIND PEOPLE HAVE HEIGHTENED SENSES? SIMON: No sense can actually improve. What happens is you get better at using the other senses. DR AMIT PATEL: I learnt to tune into my hearing a little bit more - focus on what I needed to hear. Same with touch. LUCY: I can understand why people might think we have supersonic hearing but no, unfortunately. I wish. TEXT: WHAT DO BLIND PEOPLE SEE WHEN THEY DREAM? LUCY: Now personally, I don't see anything. I just have thoughts when I dream. DR AMIT PATEL: I have vivid dreams. I lost my sight overnight, so I saw my wife in the evening. Next morning, I woke up I was completely blind, so I kind of hold onto that memory. I see my wife and myself having dinner a lot of the time. DO ALL BLIND PEOPLE HAVE GUIDE DOGS? AND DO THEY KNOW WHERE TO GO? LUCY: Not all blind people have guide dogs, but this one does. And how do you work, Olga? DR AMIT PATEL: If Kika my guide dog hasn't ever been to a location, she will never know where it is. So guide dogs are taught to go from kerb to kerb. That means avoiding obstacles - be it lamp posts, bins, people on the streets - and then they'll wait for directions left, right, or cross the road. LUCY: I think the most common question for me is, "Is your guide dog a sat-nav?" And my answer is "No." SHOULD I HELP A BLIND PERSON ON THE STREET? SIMON: If you see someone struggling whether they're blind or not, then I think there's an obligation for those of us who can, to support, and ask if they need support. LUCY: There is a problem when it comes to crossing the road, and just being taken. SIMON: A good way to get a blind person's attention is with the back of your hand on the upper arm, because it's a non-aggressive place to touch somebody. Introduce yourself, ask them if they need support. What I would also say is, don't be offended if they say no. DR AMIT PATEL: And you never know, that tiny, that two minutes out of your life, will make such a difference to someone like me. WHAT IS THE QUESTION YOU WISH PEOPLE ASKED YOU? DR AMIT PATEL: "How do I help someone who's visually impaired?" That's probably the question that would probably make my life a lot easier. SIMON: Don't be ashamed to ask what happened? Don't be ashamed to ask what's it like? There's so many different questions that I would be happy to answer if people were happy to ask. LUCY: Sometimes it would be nice to see the person behind the dog and say, "Hi Lucy, how are you?" It would make me smile. Yes.
---
Ask Us Anything
4 VIDEOS
17:55
188.3k views
In this playlist, we put some of the most commonly searched questions on the internet... to the people best placed to answer them.