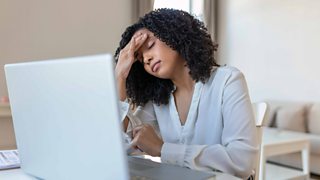 To play this video you need to enable JavaScript.
How to avoid emotional burnout
Dr Radha Modgil shares her top tips for making sure you don't feel overwhelmed and burnt out.
Published on 18 September 2020
---
How to avoid emotional burnout
Dr Radha Modgil, Doctor and Broadcaster: How many times have you had that feeling of impending doom as you watch your mobile phone battery drain away knowing full well you don't have a charger? Well I had a moment like that on a train and it got me thinking about my own emotional battery and the fact that it needs attention. I started to think, how do I recharge myself and stop myself from being overwhelmed and tipping into emotional burnout? Caption: How to avoid emotional burnout So what exactly is emotional burnout? The term was first used by Herbert Freudenberger in a research paper in 1974. He himself had many major life challenges including fleeing persecution in Germany, setting up a whole new life in the US, learning a new language and studying for his degree in night classes whilst working in a factory. He described emotional burnout as a state of mental and physical exhaustion caused by one's professional life. And he described many different phases, including a compulsion to prove oneself. These days we describe emotional burnout as excessive and prolonged stress leaving us feeling unable to cope with life's challenges. And crucially these stressors come from many different areas of our lives. It could be financial, our relationships, moving home, losing our job, or exams. Any major life change or event. So how do we keep an eye on our emotional battery and prevent ourselves from getting overwhelmed and tipping into emotional burnout? Be a compassionate listener to yourself. When someone experiences a physical knock, we tell them to take it easy and we fully expect them to take time to recover. Well it's the same for emotional knocks. So start checking in with yourself daily. How are you feeling? Agitated? Tired? Stressed? Run down? We very rarely take the time to really check in with how we're feeling. And when we do, we often get stuck in our heads and analyse things. But it's really important to listen to what US philosopher and psychologist Eugene Gendlin called our felt senses. Having butterflies in our tummy when we're feeling nervous is an example of this. We very rarely stop, reflect and really tune in to how we're feeling. Think about a time when someone you know well really listened to you. How did that feel? Be a good and compassionate listener to yourself. Set aside time, about 20 minutes, to really stop, tune in and listen to how you're feeling without judgement. Are you the type of person who can usually cope with stressful and challenging situations at work but are struggling at this time? Well that might be a clue that one of your emotional buckets is low on reserve. Think of your reserves like this you have a work bucket and a home bucket. If one of those gets low but the other one is well supplied, you'll probably be able to cope. But if they're both low, and you have no reserves to draw on, that's when problems can occur. When one area of our lives is undergoing a battering, other areas can help recharge. Focusing on an area that's going really well and squeezing as much good feeling out of that as possible can really help. Strong relationships are really important for building resilience. So is exercise and doing things that you enjoy. So you can think of these as chargers. Don't be like I used to and look for a charger when you're already in the red zone. Build habits and routine into your daily life. It might be going for a coffee with a friend, listening to a podcast, watching your favourite comedy, anything that you enjoy. Make time for that and prioritise it like it matters, because it does. Babies are often put to sleep with a lullaby and research has shown that actually listening to relaxing music before bedtime can help us all get more sleep and better quality sleep. Music impacts our parasympathetic nervous system which is all about relaxation. So do whatever you can to get the best sleep possible. The American Sleep Association found that adults who sleep less than eight hours a night report higher stress levels than those that get enough sleep. When we don't have enough sleep or poor quality sleep, this impacts our mood, our focus, our concentration and our ability to deal with challenges. And no-one wants that. So now you might just understand why that moment on my train journey helped me with my mental and emotional wellbeing. And hopefully it will mean you will start to check in with your own emotional battery and prioritise it just as much as you prioritise your mobile phone one.
---
How it feels to be human
Happy? Sad? Both simultaneously? This playlist guides you through the myriad emotions that make us human – and how to understand them.