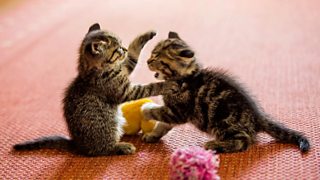 To play this video you need to enable JavaScript.
A brief history of memes
Memes are all about the internet, right? Well yes. But they're also about wider culture. How do they spread - and why?
Made by Polyphonic Films, 26 April 2019
---
A brief history of memes
DR SUSAN BLACKMORE, Psychologist: I remember first hearing the phrase internet meme and then being kind of annoyed because people very clearly thought that an internet meme was the only kind of meme there is. CAPTION: A BRIEF HISTORY OF MEMES TOM SHARP, Creative Director, The Beautiful Meme: We think about culture being eras, epochs or times within art, and so to actually talk about the discrete units that exist that are surrounding us all the time and how they evolve - that was super, super interesting. REILLY, Art director and meme artist: All the time I was thinking, "God these brands are just going to tear me apart because of what I'm doing." But they're still in on the joke. And you have to be, and that's the thing. You can't be seen as going, "No, I don't want to be a part of this." This is the world we live in, this is it. This is what's going on around us. INTERVIEWER: Do you send a lot of memes? VOX POP 1 : I do yeah, constantly. Rather than communicate, like yeah. VOX POP 2 : That's how I communicate. VOX POP 1 : And they can just say a lot more than one sentence as well, in some situations. VOX POP 2 : True. VOX POP 3: Yeah, a meme is a written... is a written joke, yeah, that's related to something that happens in real life. DR ANASTASIA DENISOVA, University of Westminste: I think it also links with this ironic attitude to everything. Where you can just express your disdain, disappointment, a lack of trust in something. So that's why we call it a universal language. It brings you to this part of the internet collective, so you feel that a certain community gets you or maybe you're getting a certain community. CAPTION: THE TERM 'MEME' WAS FIRST COINED BY BIOLOGIST RICHARD DAWKINS IN 1976, IN HIS BOOK THE SELFISH GENE. TOM SHARP: I read The Selfish Gene, Richard Dawkins, back at university and I was really inspired by the idea that you could have these units of culture called a meme that spread from person to person. So Dawkins talked about religion being the ultimate meme - how you can have religion or the idea of God as such an infectious concept that you can't not think about it once you've heard it, but then as it passes from person to person, it evolves. DR SUSAN BLACKMORE: To understand memes, you need to understand the concept of a replicator. That is information that is copied with variation and selection. So genes are a replicator, when animals mate or seeds grow and so on you have information that's copied with variations and huge selection pressure, so most of them die. DR SUSAN BLACKMORE: This is what Darwin saw back in The Origin of Species in 1859. The same applies to memes. All the information that we put out all day long and all the books we read and the radio programs and TV things we watch and so on, they're competing for our attention. Most of them we forget, most of them nobody bothers to watch and the very few that succeed and get millions of people involved are the ones that we see all around us in the world. Same process is happening in biology with a different mechanism. REILLY: First of all it got a bit of attention but it sort of sat there for a little bit and things and I was thinking, "Ah maybe they're not that funny". And then there was a fashion show in Paris, the Dior show. And at the time Celine Dion was superhype because she was over in Paris and everyone was just going crazy for her. And I saw this image of her with this Dior bag, so I put the Celine logo on top of it and faked it up to look like it was gold, posted it, went to bed, woke up in the morning to a complete tirade of messages on my phone. And Dior had reposted it and it just completely kicked off. CAPTION: We need a name for the new replicator... I want a mono-syllable that sounds a bit like 'gene'- RICHARD DAWKINSTHE SELFISH GENE, 1976 TOM SHARP: When I think of memes I think of them as synonymous with the idea of creating bits of culture. And I think the best advertising and the best design and the best thinkers behind the best advertising, and best design, have always gone out to create bits of culture. And that's memetic. The fact that you've given people the structure for them to find themselves in, they might not have called it memetic or called it memes. DR SUSAN BLACKMORE: It's really important to understand what it means to say genes are selfish. Or replicators are selfish or memes are selfish. What it means is that they will get copied however and whenever they can, given the opportunity. CAPTION: So who's in charge? Here's a big thought to wrap your head around... DR SUSAN BLACKMORE: So when we think about the world of memes - internet memes or every other kind of memes - we think we're developing them, designing them, creating them for our own purposes, when a different way of looking at it is they are using us to get themselves ahead in the competition. And that way of looking at it shows you how very close to biology it is and how our role is not to be in charge and doing it for our own sake, it's all really happening for the sake of the memes themselves.
---
The social self
18 VIDEOS
1:20:22
948.3k views
How social media platforms, such as Facebook and Twitter, are changing our societies and the way that we think about ourselves.