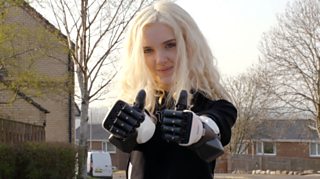 To play this video you need to enable JavaScript.
Freedom is... a pair of bionic hands
Thirteen-year-old Tilly lost both her hands after contracting meningitis, but her new bionic hands have brought her immense freedom.
Made by Tiger Lily Productions, 24 May 2019
---
Freedom is... a pair of bionic hands
TILLY: I wear makeup not because I feel like I need it to be pretty or whatever, I just use it because I like to see what I can do with the hands. I just think it's a lot of fun just to experiment. Freedom to be creative and see what I can do. CAPTION: Tilly, Age 13. When I went out and about before these hands and I was just walking around with my arms, people would always stare at them. They would come over to me and ask what happened. And I had to repeat the same story like: "I got a really bad disease called meningitis septicaemia, nearly died." And it's just a really negative topic of conversation. Whereas now with these hands, when I go outside everyone who sees us are excited by them. CAPTION: Adam, Tilly's Dad. TILLY'S DAD: Feel free to play with her hands, Maureen. MAUREEN: Can I? TILLY: Yeah, yeah look! MAUREEN: That's great, that really is. It's fabulous! TILLY: It's more like, "Woah how did you get these hands? How do I get some? They're amazing. You're like a superhero." MAUREEN: You can do thumbs up as well can't you? TILLY: Yeah. TILLY: Everyone's really excited by them, rather than feeling sorry for me all the time. And I like that so much better. There are muscle sensors inside of the hands, so you can actually control them just by touching them. The sensors are connected to my muscles. I squeeze my muscles to close the hand. I flex to open. And then if I want to change the grip then I can flex again. They definitely help me to multitask so I am now able to like, pull a suitcase and hold a hot chocolate and drink it. TILLY: Dad look I've been practicing with the hands and I can do a fist. TILLY'S DAD: Very nice! TILLY: Having these hands you have the freedom to have your independence, like you can do what you want without having to rely on other people. TILLY: Look I've got... finger shadow. TILLY'S DAD: Aww. Your own little shadow. That's cute. TILLY: I really hope that these hands will be available on National Health Service. These hands are £10,000 a pair I believe. And that's a lot cheaper than what we used to have. TILLY'S DAD: You know what, it's so heart-warming just watching her like, doing that. This is what I mean, the simple things that change your life. Simple stuff like holding her hand or... telling she's got little finger shadows. It's so cute. TILLY: I feel like my determination has got me to where I am today. TILLY'S DAD: Impressive! TILLY: The main goal is like... ultimate independence just like anybody else with hands can have. Because obviously I don't want to live with you forever, no offence. But I want to move out and have my own house and I want to be able to do everything that anyone with hands can do. So that's the main goal in the long run and I think we're definitely not too far away from that. TILLY: I think it will make everyone, not just amputees, feel better if everyone just stopped judging each other and just live your life without being judged.
---
Rethinking disability
12 VIDEOS
44:58
454.8k views
These videos may challenge your perceptions about disability.