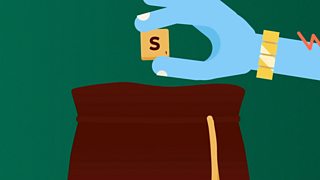 To play this video you need to enable JavaScript.
Scrabble: Five simple tricks to help you win
Who doesn't love a bit of Scrabble? But it's better if you win! Here's five simple techniques to help make you a wizard with words.
Made by Splinter Design, 22 March 2019
---
Scrabble: Five simple tricks to help you win
HOW TO WIN AT SCRABBLE WITH EXPERT ADVICE FROM NATALIE ZOLTY, ASSOCIATION OF BRITISH SCRABBLE PLAYERS Scrabble is not just a simple word game, it requires strategy and an understanding of mathematics and probability. Here are five tips to improve your game. TIP NUMBER 1 LEARN YOUR TWOS There are 124 two-letter words allowed in Scrabble. Try to learn as many of them as you can - even if they look a bit weird. Then play them parallel to your opponent's word to score big points. TIP NUMBER 2 GO FOR THE BONUS If you play all seven letters in one turn, you get an extra 50 points. How can you improve your chances of getting a bonus? Keep good combinations of one-point tiles on your rack, especially those in the word... These six letters go with every letter of the alphabet except for Q and Y, to make a seven-letter word. TIP NUMBER 3 GET YOUR HOOKS IN A hook is a letter that can be added to the front or end of a word to make a new one. S is the most obvious. But there are many less obvious ones you can use to surprise your opponent with a high-scoring play. TIP NUMBER 4 DEVELOP YOUR ANAGRAMMING MUSCLES Practice anagramming whenever you can. Cryptic crosswords and puzzles can help. Sometimes normal words can be surprisingly hard to spot. TIP NUMBER 5 CHANGE IS GOOD Don't be frightened to exchange some or all of your tiles rather than playing a word. It can be the best thing to do. High-scoring tiles are not always good. From an opening rack like this, there is nothing you can usefully play. Exchange six tiles and just keep the letter E. Ah now that looks a lot better! Follow these tips and you'll find yourself winning a lot more than you lose. Even though it certainly feels great, winning isn't everything, don't forget to have fun.
---
How to win at stuff
6 VIDEOS
14:34
364.1k views
Arm-wrestling, rock-paper-scissors, stone skimming... We all play these games. But how do you win? Some insider tips.