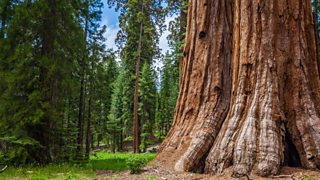 To play this video you need to enable JavaScript.
Do we need to re-think our ideas of time?
As a society, we're so focused on the short term. But is this wrecking the environment? Do we need to think more long term? If so, how?
Made by Tamarack Media Cooperative, 24 January 2020
---
Do we need to re-think our ideas of time?
We live in a short term world. We're so focused on what's right in front of us - whether that's our social media feeds, the latest political headlines or the latest fashion trends. It's all about now. And that the problem is that kind of tunnel vision of short termism is leading to a situation where we might only be left with a short term as a species. So it's often said that we are the first generation to truly feel the impacts of climate change, and the last generation to meaningfully be able to do anything about it. If short-termism got us into this mess, can long-termism get us out of it? For us, anything that we're saying, we do it in mind that our seven generations are sitting with us already. When you talk about how can we establish things for the next seven generations, we're not just talking about the things that we can teach them, but the things that they have to know to survive. All my artwork deals with time, on very different levels. Some are quite experiential, like a mirror ball that has 10,000 eclipses beaming around the room. I've made clocks that tell the time on other planets. Humans are kind of evolved to think within our own lifespans, and so I think things like art can allow you to take a step outside of that. But not in a kind of science fiction way - more in a way that connects to Earth and connects to living organisms. Future Library came about in 2014. We planted 1,000 trees just on the outskirts of Oslo, and in a century's time, they're going to be cut down, pulped and made into a book. Every year the author brings their text to the forest and people gather together and we go on the same walk through the forest and then they present their manuscript. The questions have gone from thinking about the paper book and digital ways of reading and, will the book still exist? To, will humanity exist? Will there be a reader in 100 years? And that's really shocking. My job description as set out in law is to act as the guardian of the interests of future generations, so I feel pretty pressured by that, that's quite a big job description. The Well-being of Future Generations Act was passed by our National Assembly in 2015. It requires all of our public bodies to demonstrate how they're taking decisions in a way which meets today's needs, without compromising the ability of future generations to meet their own needs. I suppose one of the biggest test cases for the act was around building a 13-mile stretch of motorway. It had been previously thought that this was a done deal not only is it potentially not the right thing to do for future generations, we would also be asking them to pay for it. I asked the government to explain to me how they were thinking about the long term there and how they considered future trends and scenarios, and the First Minister came back and rejected the proposals. Sometimes the points made is, "Well we've got enough problems to deal with now without thinking about the future." But I don't think doing the right thing for current generations and future generations is mutually exclusive. Politicians are not renowned for their long-term thinking, so actually taking a step, not just to say in some aspirational policy document, but actually in law, "No, we will require ourselves to think to the long term and we'll appoint someone who is independent and will hold us to account for doing that." That's quite a brave move. So we found that engaging with the long term changes the way that people behave in the short term. Stretching people's capacity to care about future generations means that they take responsibility for that future. None of us is going to live forever, we're all mortal. The question we're asking is, what do we want to leave behind? How can we leave a better legacy for future generations? How might we be better ancestors?
---
Sustainable thinking
32 VIDEOS
2:18:15
2.9m views
A playlist featuring new, challenging and even visionary thinking around climate change and sustainability.