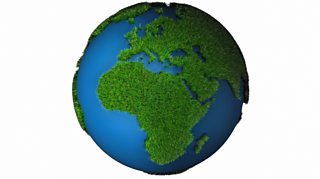 To play this video you need to enable JavaScript.
Could circular economics fix the planet?
Economist Kate Raworth uses something she found in her garden shed to explain her view of 21st Century economics.
Filmed at Futurefest, published on 23 August 2018

---
Could circular economics fix the planet?
My name's Kate Raworth. I'm a renegade economist, because I am passionate about rewriting economics so that it's fit for the 21st Century. UNDERSTANDING ECONOMICS VIA A HOSEPIPE. Here's the fascinating thing, I think we're living through a psychological drama, in terms of what business can be and do in the world. KATE RAWORTH, ECONOMIST. The 20th Century was dominated by one narrow business mindset that asked one overriding question how much financial value can we extract from this? But 21st Century business leaders, designers, city designers, they're asking a completely different question. "How many benefits can we generate in the way we design this? What else can it do for the community, for culture, for the living world? What else can it give back to the systems of which we're are part?" You see, 20th Century industry was degenerative by design. We would take Earth's materials, make them into things we want, use it for a while, and throw it away. This is a linear, degenerative economy, it cuts against the cycles of the living world. We need to bend that around so that resources are never used up, they're used again and again. So that we create an economy that runs on sunlight. That waste from one process is food for another. We work with and within the cycles of the living world. The thing is, business alone can't make this happen, creating a circular, regenerative economy. Imagine if every company said, "Send us that shirt on your back, that smartphone, that plastic bottle. Return it to us and we'll turn it back into something new." We'd have a loop here, we'd have another loop over here. We'd have a series of segmented loops. Nature would laugh at us. Nature doesn't turn a peacock back into a peacock, and a daffodil back into a daffodil. Nature creates an ecosystem of resource use. She turns things back into building blocks of oxygen, nitrogen, hydrogen, and builds them up again. Regenerating life again and again, from building blocks to an ecosystem. No one company can create an ecosystem. We need cities and we need states. We need the world to work together, to create ecosystems of plastics reuse, of textiles reuse, of metals reuse. So that we work with and within the cycles of the living world, we mimic nature, who's been thriving for 3.8 billion years. If we want to stick around, we'd be wise to learn from her. Well, I never travel without a bit of hosepipe. This came from my garden shed.
---
Sustainable thinking
32 VIDEOS
2:19:01
3.2m views
A playlist featuring new, challenging and even visionary thinking around climate change and sustainability.