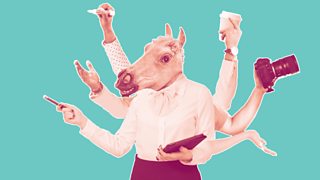 To play this video you need to enable JavaScript.
Can you really multitask? Finally, an answer
Life is pretty hectic. It's hard to know where to focus your attention. Should you be trying to multitask? Or is that a losing battle?
Made by Mosaic Films, 5 August 2019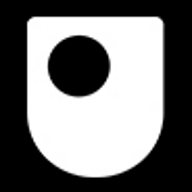 ---
Can you really multitask? Finally, an answer
With life getting more demanding and hectic all the time it seems there's only one way to cope - multitasking! Gurus and life hackers make a living telling us how to get better at it. But can we actually multitask? The term was first used in the '60s, to describe computer performance. The human brain, though, is not a computer and human attention is a very limited resource. Some psychologists model visual attention as being like a spotlight. It can only be shone in one direction at any one time. Our primary focus - what we're paying most attention to is like the brightly lit area in the centre of the beam. It can also be understood as being like a zoom lens we can choose to narrow our focus to concentrate in detail, or widen it, to be aware of more things simultaneously. But we can't be zoomed in and out at the same time. Even though we're constantly receiving a huge amount of information from our senses, it's only possible for a small amount to make it through to conscious awareness. Watch the next section very carefully, and pay particular attention to how many balls bounce in the circle. How many can you count? Seven, right? But did you also notice that little dinosaur? What about the changing shape of the circle? Or the smiley face on one of the balls? This shows just how powerful focused attention is. Being able to filter out irrelevant detail is an amazingly useful tool, but it means we can miss things that are right under our noses an effect known as inattention blindness. You can see this very clearly in the famous Invisible Gorilla experiment. When asked to concentrate exclusively on how often basketball players in white pass the ball, most people completely miss the gorilla walking across the screen and beating his chest. We just don't have the capacity to process everything at once. This is a particular problem when we try to multitask. We can switch attention from one task to another and back again. But when attention is overloaded, we miss things, and the result is nearly always that we perform tasks less well than we would doing them one at a time. It's only truly possible to do two things at once if they require different sets of cognitive resources. For example, it's totally possible to read a book and listen to music at the same time. Which would suggest that driving while talking on the phone is not a problem, as long as it's a hands-free phone. It's not that simple though research has shown that while talking on the phone we have a tendency to create mental images, and this uses the same visual resources needed for driving. And if visual resources become too stretched, it's perfectly possible for a driver to look directly at a hazard but, just like with that little dinosaur, fail to see it. Not everything will make it through to conscious awareness. So multitasking makes us at best, inefficient, and at worst, downright dangerous. If you're feeling like you should be doing 17 things at once, remember, that's just not the way your brain is wired.
---
The extraordinary human brain
30 VIDEOS
2:19:32
2.3m views
The human brain is extraordinarily complex. These videos will help you understand it a little better...