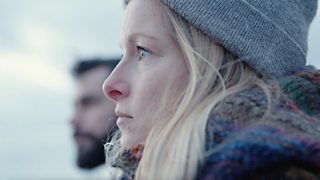 To play this video you need to enable JavaScript.
Are you suffering from eco-anxiety?
Psychologists report a rise in people suffering from climate change anxiety or eco-anxiety. What's it like? And what can you do to cope?
Made by BBC Northern Ireland, 19 March 2019
---
Are you suffering from eco-anxiety?
KATE MONSON: If I don't think the future is worth anything then I'm not going to have children. If I think it is worth something, I will have children. NIK THAKKAR: We are already seeing coastal city flooding, we're already seeing forest fires, we're already seeing flash floods, we're seeing tornadoes. When big ecological disasters happen around the world, I feel a sense of anxiety. I feel a sense of sadness and a sense of loss. CAPTION: Dr Steffi Bednarek Psychotherapist SAMUEL MILLER MCDONALD: So imagine you go outside and you look up in the sky, and there's a comet there. And you know - you've just been told by scientists that that comet is racing toward the Earth and it's going to kill everybody and everything in a big fiery storm. And nobody else notices the comet. SAMUEL MILLER MCDONALD: And you say: "Hey look, there's a comet and it's going to kill all of us..." And people just don't seem to care. DR STEFFI: Climate change anxiety as a term is a relatively new term. By no way a new phenomenon. It's an anxiety that is about the future. And a trauma that we haven't experienced yet, but that we know is going to come our way. CAPTION: Dr Steffi has invited three climate change anxiety sufferers to discuss their fears. CAPTION: Psychologists report a big increase in people with anxiety relating to climate change in both the US & UK Source: Climate Psychology Alliance DR STEFFI: We're facing a very existential fear. This is not a fear about how does my body look? Or am I popular enough? This is a fear about our survival. CAPTION: The term "eco-anxiety" is sometimes used, which The American Psychological Association defines as a "chronic fear of environmental doom". DR STEFFI: What is it that makes you anxious? What are the thoughts or what are the details that when you go there that's when you touch your anxiety. CAPTION: NIK THAKKAR Artist NIK THAKKAR: In other parts of the world, they'll be more affected by climate change than the cities that we currently live in. That's when I feel like... we're not doing enough. CAPTION: Samuel Miller McDonald Oxford Phd Student & Writer SAMUEL MILLER MCDONALD: One of the most sort of potent anxieties, is the fear of... people mistreating each other out of panic and fear and, you know... it's more maybe how people respond to that. Kate Monson Environmental Cultures Researcher KATE MONSON: I just keep thinking about... a small child. Probably myself. And I just think about how innocent my - god I'm emotional already. KATE MONSON: That memory I have of being a child, that is so valuable. And I just think about all the people that aren't... That don't have that. That preciousness about the worldand I think that's really... That's a privilege that is just disappearing. KATE MONSON: Yeah I get emotional when I think about... the effects that climate change and its related issues will have. I get very angry about those, I feel very powerless. I feel very frustrated. DR STEFFI: I think we need more and more people to wake up to this and anxiety is part of the way of digesting the information, there's no way around that. DR STEFFI: What is the part that you can play in stretching out and mending the part of the world that is within your reach? SAMUEL MILLER MCDONALD: In the face of constant defeat, just stubbornness and tenacity. NIK THAKKAR: Understand what your impact as a human being is on the planet. KATE MONSON: I feel so helpless but... But so empowered by that helplessness that I then want to try and do everything and so. DR STEFFI: We see and an unprecedented amount of people who present with anxiety that they can't even locate. And I'm wondering whether this is that people are actually picking up that something is not right. KATE MONSON: I don't think it's all... I have to believe it's not all bad. Maybe things will be fixed by the time they're an adult and it will be all good. SAMUEL MILLER MCDONALD: I feel the most hopeful when I remind myself how bad humans have always been at predicting the future.
---
Sustainable thinking
32 VIDEOS
2:18:15
2.9m views
A playlist featuring new, challenging and even visionary thinking around climate change and sustainability.