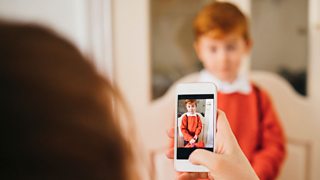 To play this video you need to enable JavaScript.
Are you sharing too much online?
For many parents, it's natural to share images of their children on social media. But is this fair? We explore the ethics of "sharenting".
Made by Silverfish Films, 7 May 2020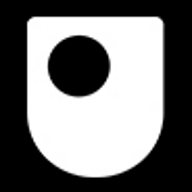 ---
Are you sharing too much online?
Have you guys heard of the term sharenting? -No. -Er, sharenting? No. Sharing about being a parent? Those parents that share everything about their children online? Caption: The Ethics of Sharenting Caption: Sharenting NOUN (2016) The habitual use of social media to share news, images, etc. of one's children Caption: Zanya, mother of two It's something that I do quite regularly to be honest. People come to this country, they haven't been back, they have kids and make their life here. Caption: Lorenzo, father of two Some of my family back home have never seen them before. If I didn't put them on social media they wouldn't see them. Caption: By age 5, the average UK kid has 1,500 photos of them online. But with posts potentially visible to millions, how do young people feel about sharenting? Sometimes I get really embarrassed when my mum posts stuff on her Facebook page or her Instagram or whatever, very embarrassing. Very. -Very? -Mmm. Caption: Rose Capdevila The Open University They might not want their friends to see them that way. They want to have some kind of control over their image. There's a famous case of Gwyneth Paltrow posting a picture of her daughter Apple and it was a selfie. There was nothing really, you would think, contentious about it, yet her daughter complained about it. Caption: (Twitter post) applemartin - Mom we have discussed this. You may not post anything without my consent. Gwynethpaltrow - You can't even see your face! Caption: Apple argued that she had not given consent for the image to be posted. Caption: This is becoming more and more a point of tension between parents and children - especially teenagers. Caption: In France, kids can sue their parents for sharing too much about them Wow, I'd be in trouble. Caption: Kate They're posting about people who are not themselves and that could impact us when we go out into the real world and try to get a job, for example. Caption: Evie There is an element of trust there between a parent and a child I'm not comfortable with my face being shown without me knowing what actually I'm being perceived as on their platform. Caption: Joe It may not seem like something which is particularly significant. It may be very personally upsetting to individuals what parents put up on the internet. For people of our generation, your online identity isn't so much seen as separate from your real-life identity but just an extension of it. Caption: Lisa Lazard The Open University Social media profiles are identity projects. Caption: Zahrah I don't think that the government as well as parents should take control over our online identities because it is a part of who we are and we use our posts and stuff like that to express ourselves. It draws attention to the kind of complex everyday work that those posts are doing which are not about showing off. Caption: Victoria Nash Oxford Internet Institute Sharenting isn't new. Those of us that can remember cringy moments seeing kids' photo albums handed around to friends and family know all too well that this is a fairly fundamental urge on behalf of parents to share their pride about their children. It's a way of showing that you're doing that parenting. What is new about sharenting in the digital context is of course that we are leaving a fairly extensive and lengthy digital stream of photos, comments, stories. Caption: The urge to share is a human one - and there are many benefits. But is it fair for children? What are the dangers? Caption: Joanna, mother of a young baby We didn't want to invade her privacy, even though she's just a baby. That's going to stay online forever. Caption: Marcos, father of a young baby Any image you post now is going to be on the internet forever and then we don't know what's going to happen in the future with things coming up like deepfake and you're just giving your kid's image away. Caption: There are three key pieces of information used in identity theft: a person's name, date of birth and home address. Caption: These may often be posted by parents on social media through location tagging or birthday posts. Caption: By 2030, Sharenting could account for up to 7 million incidents of identity theft (2/3 of identity fraud) Caption: Catriona Harvard The Open University Especially now with face-recognition software by posting facial images online you're helping them create a database. You don't know how these images that you've posted are going to be used. Unfortunately we have paedophile groups who will literally sort of scan videos to take out single shots which seem to expose parts of a child's body or And that's a horrifying thought so I think a lot of this is about education and changing social norms. One of the strategies that I use is taking pictures of them when they're not actually facing the camera so you can't see her face. These new digital tools enable us to look back on nice moments from our child's early days, early years, development, etc. Funny little things that you write on there and then it's like, "Oh yeah that happened then, like a whole year ago." It's pretty good to let all her friends know that I did this, oh, I went to this school and like, knowing that, oh like, I'm really happy. If sharenting is done in a responsible way and it enables families to have conversations, for example with their kids as they get older about what you want to have online, how you portray yourself, then actually I think it can be a really important step towards keeping kids themselves safe as they become digitally enabled adults.
---
Modern family life
8 VIDEOS
34:38
362.4k views
Love them or loathe them, your family plays a huge role in shaping you. These videos look at how families work - and how they're changing.