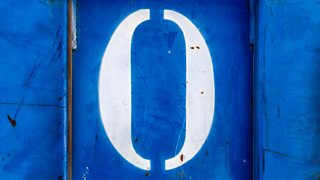 To play this video you need to enable JavaScript.
A short history of nothing
Did you know the word "naughty" comes from nought? And zero was once seen as the antithesis of God? Here's how nothing became something.
Made by 7digital, 12 April 2019
---
A short history of nothing
THE HISTORY OF NOTHING (ZERO) VICKY NEALE, LECTURER AT THE UNIVERSITY OF OXFORD: Through history it's been unimaginable, unthinkable, ungodly even illegal. It emerged and travelled and disappeared and was banned and re-emerged repeatedly through centuries. ROBERT KAPLAN, AUTHOR: THE NOTHING THAT IS: A NATURAL HISTORY OF ZERO: Zero was controversial to the church because it was thought of as "devil's work". When we say today, "Oh you're naughty," naughty is descended from nought. It's bad to be nothing, it's the antithesis of God and creation. VICKY NEALE: Before the zero we know, it was just a placeholder, showing us how 701 is different from 71. But it was from this small dot that zero eventually took on life as a number in its own right. A something that signifies nothing. This is Brahmagupta [7th Century Indian mathematician and astronomer]. And this is where we see zero change from placeholder to number. For the first time, someone set out the role of zero as a number and the rules of how to use it. His depth of mathematical insight was extraordinary, but even Brahmagupta struggled to make sense of division by zero. As would many generations who followed. This concept of zero travelled from India through what is now Iraq. From Iraq it slowly made its way across Asia and spread towards Europe and the Far East. One of the European pioneers of zero was Fibonacci [13th Century Italian mathematician]. He promoted the use of zero and the Indo-Arabic numerals we still use today to merchants and mathematicians who were more accustomed to the abacus and the Roman numeral system. ROBERT KAPLAN: Zero becomes spread by merchants, and if the women in markets and the merchants there were using zero in this way, over the course of several hundred years zero becomes a naturalised citizen. And the role of zero in the West then changes radically. Thanks to Leibniz in Germany [17th Century German polymath and philosopher] and Newton [18th Century English mathematician and physicist] in England. VICKY NEALE: Leibniz and Newton developed calculus, which is all about rates of change. To understand behaviour over shorter and shorter time intervals, we want to divide by smaller and smaller numbers. But we mustn't divide by zero. Calculus allows us to make sense of this and is fundamental to understanding the world around us. Without it we wouldn't have made breakthroughs in physics, biology and economics, let alone in mathematics itself. In 1948, Claude Shannon [20th Century American mathematician and electrical engineer] did his bit for the modern world by developing a mathematical theory of communication that relied on, well, the bit. A binary digit that's zero or one. My voice and these images are being sent as a string of zeroes and ones that your device is decoding. Without that binary code and zero, this video you're watching wouldn't exist, and nor would the world as we know it today.
---
A brief history of...
27 VIDEOS
1:57:09
1.5m views
This playlist has bite-size guides to all sorts of fascinating topics. Guaranteed to expand your mind....