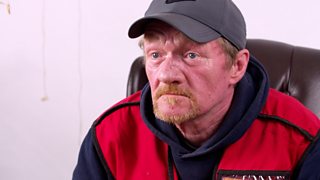 To play this video you need to enable JavaScript.
A homeless person's guide to homelessness
Why do some homeless people have dogs? Two people with experience of homelessness answer some of the most searched questions online.
Made by ITN Productions, 16 December 2019
---
A homeless person's guide to homelessness
OL Is it scary on the streets? DA What is a question you wish people asked you? [INTRO GRAPHIC: ASK US ANYTHING] DA My name is Dave. OL Hello, my name is Olivia. DA A few years ago, I was homeless for a few months. OL There are all sorts of questions floating around the internet… DA So let's clear the air. [INTRO GRAPHIC: "We put some of the most asked questions on the internet to our guests… // … the questions you'd love to know the answer to, but might be too embarrassed to ask…"] [QUESTION GRAPHIC: HOW DO HOMELESS PEOPLE BECOME HOMELESS?] DA It's through family issues, and you hear about people losing their accommodation. [TEXT GRAPHIC: Dave was homeless for around three months. He now lives in a flat.] OL I was made redundant from my carer's job, and my pay was frozen. So when you have a mortgage, council tax, all the utilities, travel and food on your own, it just piled on. [INFO GRAPHIC: One in 200 people in the UK is either sleeping rough or in temporary accommodation. Source: Shelter] DA Where do homeless people sleep? I used to sleep outside a church. OL During the day, I've got a quiet bar that can be quite lenient. You do get some safe havens. DA They sleep in doorways. Anywhere what's under cover. OL On the bus. Park bench. In McDonald's. In a library, if you want safety. [QUESTION GRAPHIC: IS IT SCARY ON THE STREETS?] OL Yes. DA Yes, I would say it's scary on the streets because especially when you don't know what's around the corner. I did have something thrown over me. I was hoping it was water at the time. I've heard of homeless people getting spat on or kicked. That's why I say to any homeless person, "Do not sleep outside a pub," because obviously people are coming out of there drunk. OL Sadly, I personally found a person that had deceased at a bus stop. (It was due to the heatwave that we had in July. N.B. I'd rather you cut this sentence and replace with a shot of her looking down/looking sad or similar to allow it to sink in a moment) [INFO GRAPHIC: The average life expectancy for a homeless person is 44. Source: Crisis] [QUESTION GRAPHIC: CAN HOMELESS PEOPLE GET JOBS?] DA Obviously you need a bank account when you get a job for your money to be paid. No ID, no job. I've heard about one or two companies - they do give a chance to a homeless person. But it's very rare. [QUESTION GRAPHIC: WHY DO HOMELESS PEOPLE HAVE DOGS?] OL Companionship. The loyalty that the dog will bring. They will not turn on them or betray them, or run off with their last £5 note. [QUESTION GRAPHIC: WHAT IS THE QUESTION YOU WISH PEOPLE ASKED YOU?] OL I hope you feel OK. Just asking about, for me, your wellbeing. Or "What can I do to help you?" DA "How can we help?" Basically.
---
Ask Us Anything
In this playlist, we put some of the most commonly searched questions on the internet... to the people best placed to answer them.