The Women of the Workshop
For forty years, from 1958 until its closure in 1998, the BBC Radiophonic Workshop created the soundscapes of alien worlds and imagined futures, conveyed the wonders of nature and introduced generations of audiences to the possibilities of electronic sound and music. It was often characterised as a masculinist laboratory of science and technology, with news and reviews referring to 'the men' of the Workshop. But women played a vital role throughout its existence.
Elizabeth Parker, at the BBC Radiophonic Workshop, 1982.
There is no doubting the importance of male employees at the Workshop, especially its co-founder, Desmond Briscoe, and long-term staff like Dick Mills and Brian Hodgson.
But the Workshop was unusual in employing a significant number of women, who would be crucial not only in its formation but also in the creation of some of its most famous, respected and influential achievements.
BBC Maida Vale Studios, 2018.
The BBC Radiophonic Workshop opened in April 1958 at the BBC's Maida Vale studios with two Studio Managers in place, Daphne Oram and Desmond Briscoe.
Oram had championed the cause of electronic music at the BBC throughout the 1950s, arguing for a facility at the corporation to match those on the continent. Her experience with electronic and tape music made Oram the clear choice as the Workshop's first Studio Manager.
Daphne Oram, at the BBC Radiophonic Workshop, 1958.
Oram had created music and special sound for productions such as Prometheus Unbound (1957), Private Dreams and Public Nightmares (1957) and Amphitryon 38 (1958).
Her experiments with electronically manipulated music could be traced to the late 1940s with her visionary plans for Still Point (1948-9), a work for two orchestras and a turntable soloist. That compositional ambition contributed to her frustration with the Workshop's focus on dramatic scoring and sound design.
Within six months of the Workshop opening, Oram had left to establish her own independent studio, seeking greater creative freedom to compose.
In this extract from a Radio 3 Sunday Feature called Wee Have Also Sound-Houses, Oram can be heard alongside Dick Mills, Maddalena Fagandini and Brian Hodgson, discussing the Workshop's early years, its limited equipment and her departure from the BBC: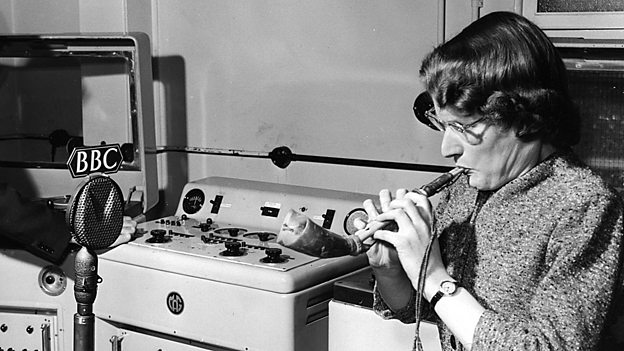 Sunday Feature: Wee Have Also Sound-Houses, Sunday 3 August 2008, 21:45, BBC Radio 3. Featuring: Daphne Oram, Dick Mills, Maddalena Fagandini and Brian Hodgson. Image: Daphne Oram at the Radiophonic Workshop blowing a Mijwiz, an Arabic reed pipe, 1958.
Despite the early loss of Oram, the Radiophonic Workshop would continue to flourish. Public awareness of the Workshop was boosted by its two most significant women employees in the 1960s, Maddalena Fagandini and Delia Derbyshire.
Maddalena Fagandini at the Radiophonic Workshop, 1962.
Fagandini joined in 1959 and contributed to major works such as Orpheus (1961). But it was a short piece from 1960, used as a television interval signal, which provided the basis for a commercial hit known as Time Beat. This was released by a pre-Beatles George Martin and was attributed to the male machine persona of 'Ray Cathode'. In a BBC Four programme, The Alchemists of Sound (2003), Fagandini and Mark Ayres discussed the enigmatic 'creator' of Time Beat: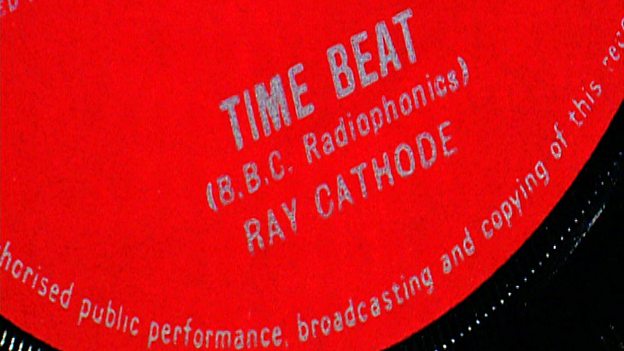 The Alchemists of Sound, Sunday 19 October 2003, 21.00, BBC Four. Featuring, Malcolm Clarke, Desmond Briscoe, Mark Ayres and Maddalena Fagandini. Image: Time Beat/Waltz In Orbit, Ray Cathode (B.B.C. Radiophonics), Parlophone - 45-R 4901, vinyl 7" disc, released 13 Apr 1962.
As Fagandini says, the absence of her name from the release of Time Beat was in line with BBC policy at the time. For much of the 1960s, BBC Radiophonic Workshop staff did not receive individual credits. This policy was extended to the Workshop's most famous employee, Delia Derbyshire.
Delia Derbyshire at the BBC Radiophonic Workshop, 1965.
Derbyshire transferred to the Workshop in 1962, and the following year produced the work for which she is still best known, her astonishing arrangement of Ron Grainer's score for the title theme of Doctor Who.
She created her own electronic material using sine and square wave oscillators and a white noise generator. With no access to synthesisers and digital technology, Derbyshire also employed 'analogue sampling', as composer Mark Ayres has termed it, to manipulate the recorded sound.
For Doctor Who, this was the recording of a single plucked string that Derbyshire variously lowered and increased in pitch. This then provided her with a series of notes which she spliced together to create extended tape loops for the bassline, with the assistance of Dick Mills.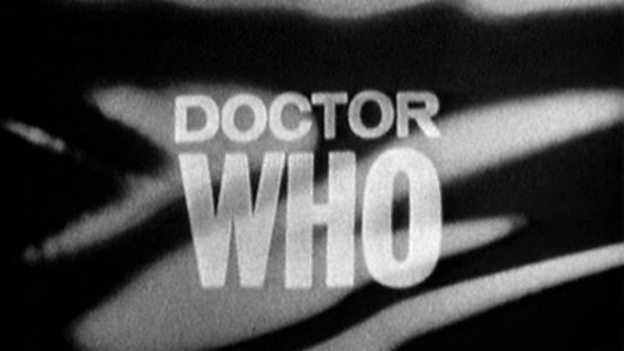 Doctor Who, Saturday 23 November 1963, BBC Television, 17.15. Features Delia Derbyshire's realisation of Ron Grainer's composition for the title music.
Delia Derbyshire's arrangement for Doctor Who generated considerable media interest.
A 1965 edition of Tomorrow's World provided Derbyshire with an opportunity to demonstrate her methods and a perfect example of her remarkable timing: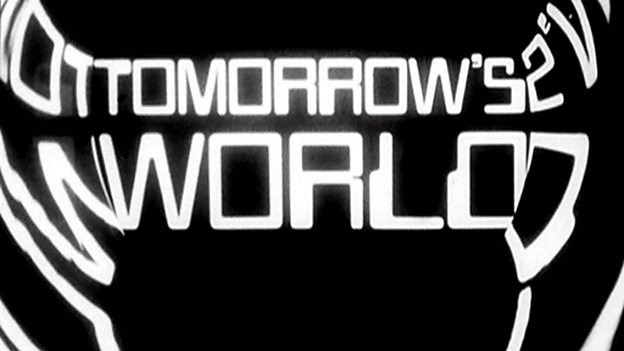 Tomorrow's World, 9 December 1965, BBC One, 20:00.
Derbyshire's innovative techniques were employed across a wide range of BBC programmes, from Schools Radio to extended audio features such as the ground-breaking Inventions for Radio. But, disillusioned with the 'accountants' she felt were taking over the BBC, she left the Workshop in 1973.
By now, the BBC Radiophonic Workshop had acquired early synthesisers such as the VCS3 and Synthi 100 'Delaware' in order to keep up with increasing demands on its staff, as well as with changing tastes.
Techniques of augmenting recordings of everyday objects and sound sources were not lost though, and could still be heard in the work of Glynis Jones, who joined the Workshop in 1972, especially in her beautiful and haunting track Veils and Mirrors (1975).
Radiophonic composer Glynis Jones contributed two significant pieces, Veils and Mirrors and Schlum Rooli, to the 1975 album The Radiophonic Workshop.
That interest in manipulating recorded sound was also a hallmark of the work of Elizabeth Parker who arrived at the Workshop in 1977 and would be a mainstay for twenty years.
Parker's first major commission was to provide the special sound for the science fiction series Blake's 7 (1978-81).
Taking over from Richard Yeoman-Clark, midway through the shows' second series, Parker moved away from emphasising overtly electronic sounds. As she revealed in an interview for BBC Worldwide, she relished the opportunity to introduce a more organic sound world: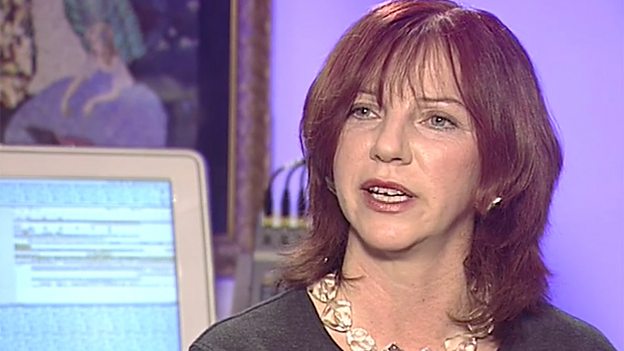 Blake's 7 Series 4 DVD Extras, BBC Worldwide. Features Elizabeth Parker recalling her work for Blake's 7.
Parker excelled at creating planetary atmospheres, investing the soundscapes with what she called a 'feminine' quality that challenged stereotypical approaches to the genre, for example generating evocative ambiences from the sound of her own voice and breath.
As the Workshop moved into the 1980s, more advanced synthesisers and digital interfaces became available. Parker incorporated this new technology into her compositions, making memorable use of the sampling abilities of the PPG Wave 2.2 synthesiser, released in 1982, for her acclaimed work on David Attenborough's The Living Planet (1984).
In this television interview Parker explained how the PPG expanded her sonic palette: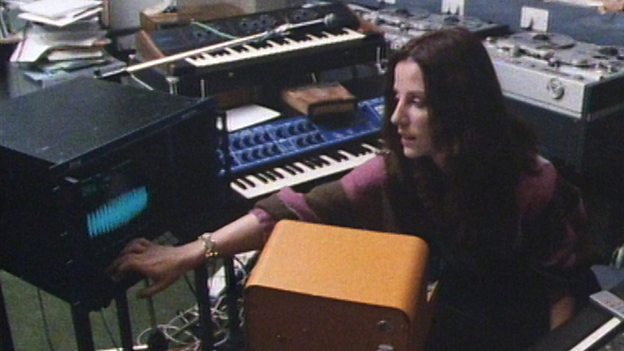 The Making of The Living Planet, Thursday 12 April 1984 20:20, BBC One. Features Elizabeth Parker discussing her work for The Living Planet.
Yet, despite the quality of Parker's work and that of her colleagues, the Workshop came under increasing threat as the falling costs of music technology gave rise to home studios and more competitors.
This in turn heightened the impact of 'Producer Choice', introduced in 1991 by the Director-General John Birt, which enabled BBC producers to take advantage of cheaper external facilities.
The Workshop tried to reinvent itself but could not compete in that free market environment. Elizabeth Parker was the last composer to leave in 1997 and the Workshop was closed officially the following year.
Elizabeth Parker at the BBC Radiophonic Workshop, 1989.
The Radiophonic Workshop continues to inspire however. The strong female presence (in part a legacy, Brian Hodgson has suggested, of the Second World War and women being employed in Programme Operations at the BBC), provides a significant number of female role models integrating aspects of science, technology and the arts.
And this was not just restricted to an isolated handful of exceptional figures like Oram, Fagandini, Derbyshire, Jones and Parker, but included a much larger community of colleagues, often unsung.
From employees during the Workshop's formative years onwards, such as Jenyth Worsley and Margaret Etall, the roll call of women at the BBC Radiophonic Workshop is extensive. It is another reason to regret the demise of this remarkable institution but also to celebrate its ongoing ability to transform the way we approach and understand sound.
The women of the Radiophonic Workshop continue to encourage us to be open and sonically adventurous in our thinking.
Written by Dr David Butler, University of Manchester with thanks to Mark Ayres and Brian Hodgson.
Search the site
Can't find what you need? Search here