50 Years of BBC TV Colour
Amanda Murphy, Senior Teaching Fellow and Digital Producer at Royal Holloway University of London explores how early pioneering television crews succeeded in bringing colour TV into our homes from the 1967 Wimbledon tennis championships, and why the team has come together again 50 years on.
The talents of early day pioneers are not always recognised or celebrated, and this is arguably the case of the early-day TV engineers and crew responsible for bringing the first colour programmes to our TV screens back in the late 60's.
David Attenborough in 1967
A young David Attenborough as Controller of BBC2 in the mid-60s was determined to beat the Germans in the race to fully launch colour television, so he ambitiously promised a colour service starting with Wimbledon on 1st July 1967. It was a great success and history was made even though there were, in fact, only 4 colour cameras in operation at the time. And given that most homes still only had black and white television sets, these cameras had to be able to broadcast in black and white as well as in colour. This all presented a considerable technical challenge for the engineers and cameramen of the day.
Colour camera at Wimbledon 1967
ADAPT
ADAPT, a hands-on history project funded by the European Research Council based at Royal Holloway University of London sets out to better understand television technology and the processes by which it was made in the past.
So, in 2016/7 we reunited some of the original cameramen from that historic Wimbledon event, along with other ex-BBC crew from those early heroic years, with much of the original kit, including two of the first- generation colour cameras and a semi-restored ex-BBC outside broadcast truck known as 'North 3', all from the late 1960s.
'North 3' OB Van back an crew re-united
The veteran crew, made up of 18 men (and one woman) rather miraculously recreated a live outside sports broadcast, to show us how it was done in those early pioneering days.
It was an ambitious mission to say the least, gathering a full line up of mostly retired outside broadcast crew with the expectation that some, if not all, might actually remember the kit they habitually used 30 to 40 years ago, and more importantly, would ideally make it all work again!
It transpired that the real challenge was locating predominantly obsolete kit from dusty lockups, cubby holes and the fierce clutches of collectors, with the faint hope that it might just be made operational. We knew this venture was ambitious at best - and many ex-crew initially thought we were insane.
What followed was several months of hard toil, with the team committed to rejuvenating ancient machinery - like an old one inch Videotape recorder, and two first generation colour cameras, along with all the associated cabling, connectors, sound kit and monitors.
Hours of hard work by a committed crew
One engineering crisis followed after another as brief signs of life in one piece of kit, would quickly be followed by a part dying. By the end, the team deserved medals for sheer determination and patience.
When North 3 finally pulled into the filming location in Wales, it was to an uproar of cheers from the veterans who only half believed it would actually make it! To our surprise, the crew then revealed they each still had a master key in their possession, that allowed them to enter any BBC outside broadcast truck-including North 3! Seeing the joy on their faces when they actually stepped back inside was priceless.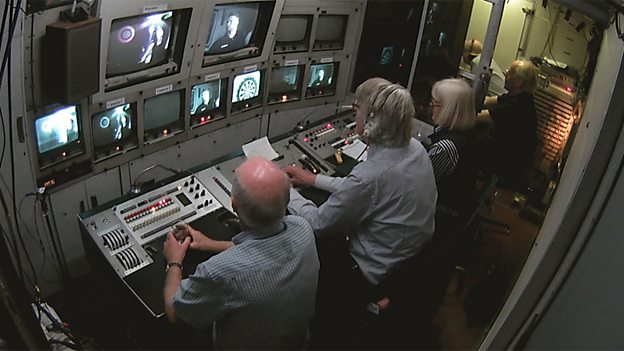 The reunited team of veteran camera operators, directors and engineers with North 3, a restored colour Outside Broadcast van re-creating an actual outside broadcast transmission. This video shows how TV was made and how it looked to viewers at home watching colour TV at home for the first time in 1967. Producer: Amanda Murphy. Editors: Lisa Forrest, Dominic Clarke for ADAPT. Director: Geoff Wilson. Engineering Manager: Ron Clare. Vision Supervisors: Roger Neale, John Coupe. Vision Engineers: Bill Baldock, Peter Foster. Cameras: Dave Taylor, Robin Sutherland, Rex Palmer. Lighting Director: Steve Harris, VT: Ian Rutter. Sound Supervisor: Doug Whitaker. Sound Assistants: Ken Osbourn, Dave Howard. PA: Jane Whitmore. Chief Rigger: Bob Parry. Additional help: Steve Jones, Brian Summers.
It took every ounce of ingenuity to get these behemoths up and running, and perhaps the greatest challenge of all came during the complex task of lining them up. For the vision engineers and cameramen, this process brought back painful memories of the many difficult hours spent during those first years of colour. With new red, green and blue tubes added to cameras, the cameramen and vision engineers needed to work in tight teams to perfectly align the tubes to achieve pictures with the right colour balance. The process took up to two hours per cameras, and with at least four cameras at most outside broadcast events, this was a time-consuming job.
After just 24 hours together, it was as if the years rolled back to the late 60s. Director Geoff Wilson's "Stand-by', 'Roll VT' and 'Action' created excitement and nostalgia in equal measure. Geoff successfully led his crew to record an astonishing 20-minute period-feel darts match complete with Letraset captions for the opening and end titles and credits. Both of the 50-year old cameras behaved well and delivered brilliant pictures. Although they have not worked since, the whole experience felt rather miraculous!
For more information go to the ADAPT television history project website, or follow the project on Twitter.
North 3, is a Type II Colour Mobile Control Room. For more information go to On The Air - The Vintage Technology Centre.
Search the site
Can't find what you need? Search here
The Radio Times introduces colour TV!