Getting your sports news these days is a bewildering business. There are websites, innumerable social media platforms and mobile alerts. It's instant, noisy, on demand and tailored to your lifestyle. In a single generation sports fans have gone from being fed sports news when "they" decided – unless you patiently waited for those Ceefax "300" pages to s-l-o-w-l-y change - to people demanding when, where and how you want it delivered.
www.bbc.co.uk/sport has straddled both these eras. Launched on 3rd July 2000, it was the final piece of a broadcasting jigsaw that by the end of 1997 had seen the BBC establish rolling news and sports channels on TV and radio, then the BBC News website. Sport still remained a muddle though, with multiple attempts by various bits of the Corporation to establish a proper website in the late 90s.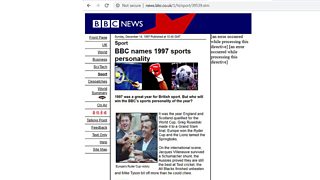 Dotcom fever
By early 2000, with dotcom fever at its height, incoming Director General Greg Dyke and new Director of Sport Peter Salmon decided to act. They wanted the editorial values and technology of the news site combined with the trusted brand and content of BBC Sport to form a trusted, world-beating sports website.
Chosen to establish it was Pete Clifton, the news website's UK Editor. "It's still the most exhilarating time of my career", he recalls. "We did a lot of planning, then I was asked to see the DG, who told me "I want it launched as soon as possible!". So I squirrelled myself away in a dismal outpost of TV Centre to recruit a great sports team. I'm proud to see many of them are still there now".
Existing BBC text staff joined, plus several new faces from traditional print media. Andrew Benson was one. "I was the Grand Prix editor of Autosport, and had also worked on Formula 1 for The Guardian at the same time, so it felt like time to spread my wings" he recalls. "It sounded a great opportunity, a little like stepping into the future.
The internet had been around for a few years, but it didn't play anything like as important and central a part in life as it does now". Benson's now the BBC's chief FI writer across all sport platforms.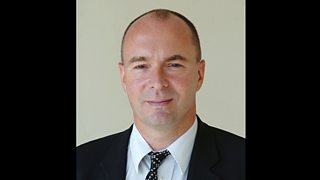 Design
The website's "look and feel" was news developer James Howard's job. "It was all a bit of a blur. With designing, integrating and recruitment we did not have that much time to do new things, and with a design staff of 5 our content management system was heavy on hand-crafted graphics. It was a fantastic system, however, and our writing staff worked to established editorial guidelines. I was pleasantly surprised how quickly it took off". Clifton adds "We built a great team spirit in those early pioneering days. After long hours at work we'd have a few beers and darts matches in my office".
Making the site look like a part of BBC Sport was critical, and my role was to embed our radio and TV content into it. There was initial suspicion from some diehards– "no-one will ever want to watch sport on the internet when they can see it on TV" – but progress was made. Our "A Question of Sport" quiz section appealed to many, while familiar TV pundits from Alan Hansen to Suzi Perry provided colour and opinions.
Football statistician Albert Sewell and Test Match Special scores guru Bill Frindall wrote hugely-popular columns answering arcane queries. "Ask Bearders" eventually became a best-selling book.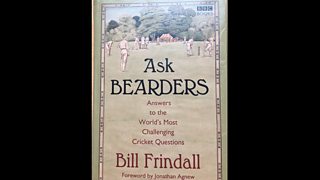 The power of journalism
Journalism was at its core. "I remember jumping at the chance to write for what I knew would be a site with global reach" recalls radio's Iain Carter. "I was covering tennis, and one of my earliest pieces was an imaginary account of Pete Sampras playing Bjorn Borg. I can't recall who won, but it was the first time I realised that through writing I could get the sort of buzz that was a natural by-product of broadcasting. It's become a vital part of his role as Golf Correspondent. "My columns often spark plenty of comments, not all of them complimentary, but it shows the huge appetite for coverage and views of that sport".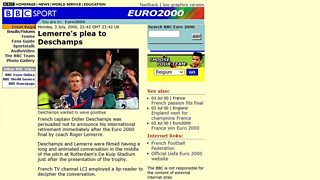 Text and clips
When the website started it was mainly text-based, with a few clips from Radio 5 Live or TV news. Getting rights to use audio and video footage were a battle to begin with, but things improved over the years.
Ceefax was integrated, and the service constantly shifted and reinvented itself as technology developed.
Three major developments forced huge change.
The arrival of the smartphone in 2008 enabled a huge expansion of video clips and live streaming. The physical move of BBC Sport to their new hi-tech Salford HQ in 2011 led to an integrated operation across TV, radio and its expanding digital services. Finally, the 2012 London Olympics saw the BBC as rights holders promise "you'll never miss a moment".
"I was in London when we won the bid" remembers Olympics editor Claire Stocks. "From then I worked on it more and more, getting all the sports on board and following the journeys of future stars like Nicola Adams and Jade Jones online. Come Games-time, having news and live action from every team and sport in one place was an outward symbol of the transition of BBC Sport into a genuine 21st century multimedia operation".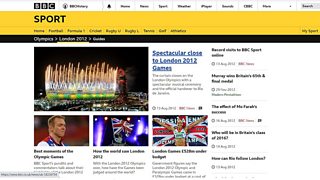 The most popular
www.bbc.co.uk/sport celebrates 20 years as the most popular sports website in the UK. It has a weekly audience of more than 20 million unique browsers, most accessing it via their mobiles.
Its original sports editor Ben Gallop remembers that pioneering spirit back in 2000. "The bosses gave us the space to develop the kinds of approaches that I can now see were to become the watchwords of the digital revolution".
Gallop is now Head of Radio Sport and Digital, and realises its immense value to the department. "To be there at the start of something brand new, building a service that's still thriving two decades on, it doesn't get much better than that".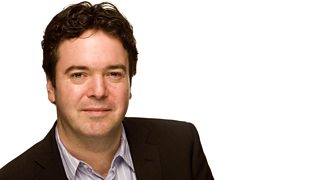 Written by Charles Runcie former Head, Sport, BBC English Regions.
Links