Smethwick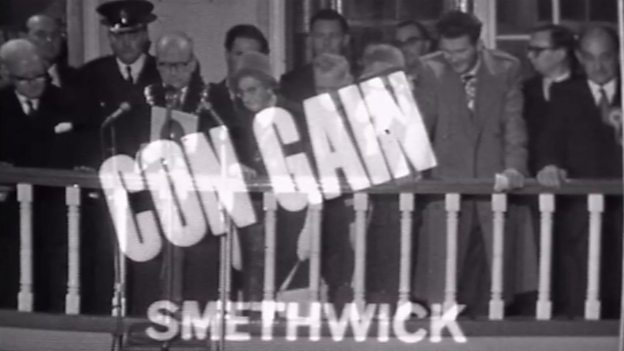 The Conservatives unexpectedly gain Smethwick, 1964
Warning - there is one instance of racially offensive language in this article.
The 1964 election night coverage was slick and exhaustive – probably the most complex programme the BBC had done for five years. But one brief moment of television stood out as unusually dramatic: the results coming in from the West Midlands constituency of Smethwick.
There'd been a hugely controversial campaign in Smethwick. Early on, the Labour candidate, Patrick Gordon Walker, had been expected to win. But a campaign slogan was then circulated, which used highly derogatory language: "If you want a nigger for a neighbour, vote Labour". It was a slogan that his Conservative opponent, Peter Griffiths, had refused to disown. When the polls closed nationwide, there was a swing towards Labour across most of the country, but in Smethwick there'd been a dramatic swing in the opposite direction, towards the Conservatives. Peter Griffiths took the seat.
When the defeated Walker appeared on screen soon after the results were announced, a sense of shock was written on his face for all to see.
Written by Professor David Hendy, University of Sussex
Give us your feedback, email BBC History
Search the site
Can't find what you need? Search here
100 voices that made the BBC - Elections
Related link
Hear about the Smethwick election result in this recent Radio 4 documentary for Archive Hour about the visit of Malcolm X to Britain in 1965.