The Perfect Professional
Richard Dimbleby's career at the BBC was a succession of 'firsts'. The first BBC journalist to accompany a royal tour, he reported on King George VI trip to Canada in 1939. The Corporation's first war correspondent at the outbreak of the World War II, he was put in charge of the BBC's war reporting unit after the Normandy landings and was the first reporter to enter Bergen-Belsen concentration camp in April 1945.
In peacetime, Richard Dimbleby emerged as the voice of the BBC, if not the nation, on state occasions, narrating Queen Elizabeth's Coronation in 1953 and Winston Churchill's funeral in 1965. And from 1955 he had anchored the BBC's television coverage of the General Election results.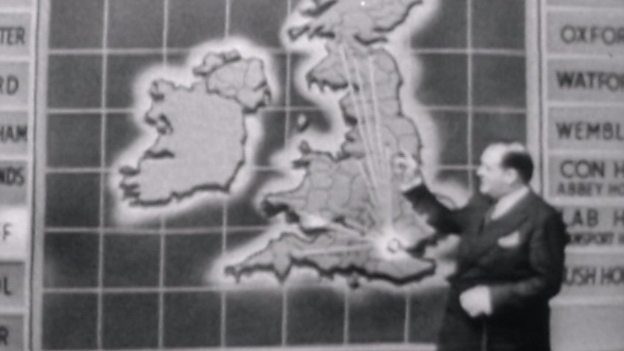 How BBC election night looked in 1955

In the opinion of Paul Fox, former Controller of BBC 1, Dimbleby was 'the perfect professional' who had 'an understanding with the audience that no other television reporter or presenter has ever had before or since'. His occupation of the election night hot-seat, however, had not been a foregone conclusion. Grace Wyndham Goldie worked extremely hard to convince those around her, including the Director-General Ian Jacob, that Dimbleby and not the BBC's Parliamentary Correspondent E.R. Thompson had the right mixture of journalistic instinct, gravitas and stamina to helm the programme.
Once in place, as Cliff Michemore recalled, Dimbleby made his presence felt: 'At a professional level he made sure that you knew who was the boss. On election night programmes, for example, Richard let everyone know that he was in charge and very much so'.
Dimbleby was 'the unflappable anchorman of the General Election Results programme, which went right through the night and required someone who was very well trained with news sense but also was at ease with the television camera' (Leonard Miall, Head of Television Talks). In the three election programmes he hosted before his death in 1965 he had a profound impact on the establishment of election coverage as part of the core remit of a national broadcaster.
Written by Dr. Alban Webb, University of Sussex
Give us your feedback, email BBC History
Search the site
Can't find what you need? Search here
100 voices that made the BBC - Elections