Jane Austen at the BBC - a celebration in film TV and radio
A first for radio
Colin Firth as Mr. Darcy in Pride and Prejudice, BBC ONE, 24 September 1995, 21.00.
Many lovers of Jane Austen have come to know her work through a BBC film, television or radio adaptation, and it wasn't Colin Firth's famous appearance in 1995 that started it all! The proposal scene from Pride and Prejudice was first to be broadcast at 19.30 on the 15 January 1924, heard on '2L0', the BBC's first radio station, heard only in the London area. It formed part of what might be described as 'literary variety show', which included scenes from other plays and books, plus soft music by Frederick Austin performed by the 2LO Light Orchestra.
A first for television
Sumptuous sets at the Alexandra Palace studios were created despite a very tight budget for the BBC's first television adaptation of Pride and Prejudice. BBC Television Service, 22 May 1938, 21.25.
Several radio adaptations later, and Pride and Prejudice was picked again for another first, this time for television. The fledgling BBC Television Service, less than two years old and the first regular high definition service in the world took up the challenge to adapt the book for the small screen. The cramped studios at Alexandra Palace proved not to be a barrier to the talented cast and crew who put together a lavish, and live, production. Red hot studio lights and cameras that regularly failed on-air only added to the excitement.
Making Austen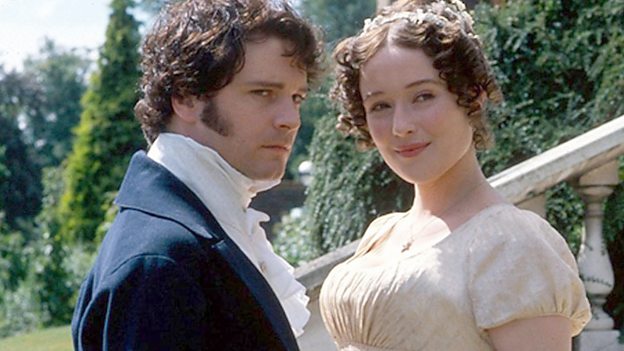 For successive generations the works of Jane Austen have proved popular on BBC Television, from the most primitive live productions for only a handful of viewers in the 1930s, to major adaptations in High Definition widescreen today seen by millions across the world.

Sadly recording of television by film means was not possible until the late 1940s and videotape was not available until 1956, so none of the early Austens were kept. Videotape was expenseive and could take up a large part of a programme budget. As a result no BBC Jane Austen TV productions were kept in their original form until 1971. Recording interior scenes in a studio, normally BBC Television Centre, and filming exterior shots on location became the norm until the 1990s, when viewers started to demand much better cinema-like standards in high definition. This archive compilation by Henrietta Foster traces all BBC TV Jane Austen TV productions, and was seen during the Jane Austen bicentenary celebrations.
Text: John Escolme
Archive compilation: Henrietta Foster
Search the site
Can't find what you need? Search here
Have your say
Tell us about your favourite Jane Austen radio or TV adaptations, did they bring you closer to the author's work?