60 years of The BBC Radiophonic Workshop
Delia Derbyshire (foreground) edits a musical note on tape, while Desmond Briscoe consults the score. BBC Radiophonic Workshop, 1965.
The BBC Radiophonic Workshop officially opened for business on 1April 1958 from Room 13 at the BBC's Maida Vale Studios. It was set up to provide theme tunes, incidental music and effects for BBC programmes. The Workshop's best known creation is the menacing and other-worldly Doctor Who theme, which is justly celebrated as an innovative and iconic piece of electronic music. However the output of the unit included work as varied as the themes for The Living Planet, PM, Blake's 7 and school's programmes such as Look and Read, plus comedy effects for The Goon Show.
The Radiophonic Workshop was established at the BBC's Maida Vale Studios after pioneering work for the Drama Department by Desmond Briscoe and Daphne Oram that produced new sounds manipulating tape and test oscillators. Names associated with the Workshop's history include Dick Mills, Delia Derbyshire, Brian Hodgson, Paddy Kingsland, Peter Howell, John Baker and Elizabeth Parker. Over the years they used found sounds, synthesisers and eventually samplers to make their unique creations.
The Radiophonic Workshop was a BBC department producing work for specific purposes. But this work was heard across the BBC and thus it created an aesthetic that influenced musicians and creative people in the wider world. It closed in 1998 but recently original members of the Radiophonic Workshop have been playing some of their greatest moments live.
Elizabeth Parker, the last composer to remain at the Workshop, 1985.
Now to celebrate 60 years since the Workshop was founded there's a chance to see the group in action at the Royal Albert Hall in London, as part of the Festival of Science: Space on 26 May 2018. 'Still Point' by BBC Radiophonic Workshop co-founder Daphne Oram will be perfomred at a special BBC Prom, on 23 July 2018. Also, at the Bluedot Festival in the shadow of the Lovell Telescope at Joddrell Bank, Cheshire, Workshop musicians and sound alchemists will perform live from 19 - 22 July 2018.
BBC Radiophonic Workshop, Nationwide, 1979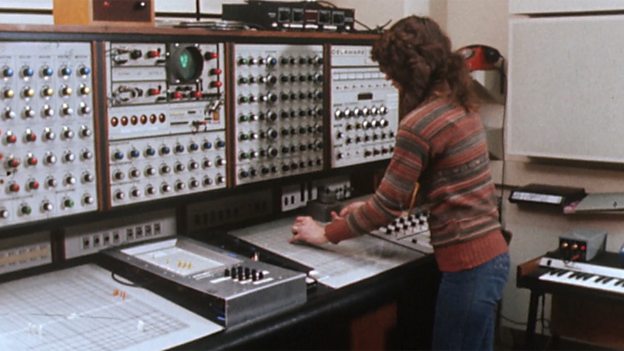 When the Workshop celebrated its 21st anniversary in 1979, reporter Vera Gilbert joined the Workshop for a day to look behind the scenes. With 21st century eyes, the equipment and practices in use at the end of the 1970s seem curiously antiquated.
BBC Radiophonic Workshop & the second Doctor Who theme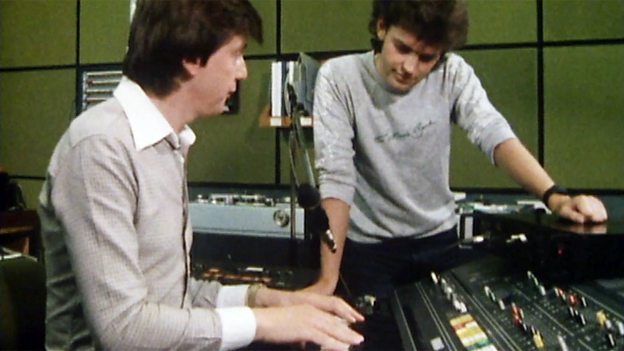 BBC One Schools & Colleges Music Arcade programme sent Tim Whitnall to see how the Doctor Who theme tune was composed, whilst Lucie Skeaping joined children from St. Mary's Balham CE Primary School in the studio with Peter Howell of the BBC Radiophonic Workshop for some electronic music making.