Iconography
This guideline shows our full suite of BBC icons and explains how to use them. They're designed to create a consistent look across all our digital platforms.
Contributors
+8
Overview
Our icons can be used to illustrate action, status and identity.
We have 19 icon sets, with over 400 icons in total. These range from action icons like the 'download' icon, to device icons like 'smart speaker', to service-specific icons for Sport.
Our icons were created in collaboration with Dalton Maag to echo our BBC Reith typeface.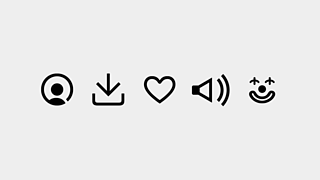 Try the Demo
Sizing & Spacing
Our icons have been designed at 24px and can be resized accordingly in your designs. They can also be sized in relation to our typography guidelines.
Spacing and positioning
Always give the right amount of space around the icon to allow for legibility and touch. Wherever possible, use spacing in multiples of 4 or 8 pixels.
Icons should always appear to the left of their respective labels.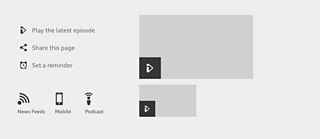 Looking for Legacy Icons?
Playback AVKX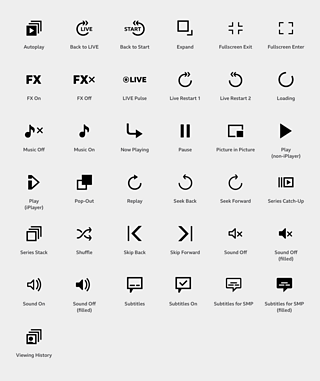 Note
For AirPlay and Chromecast icons, please use the latest assets provided by Apple and Google.
Further info
Third Party Icons
For platform or OS-specific icons, please visit the appropriate websites for the latest versions of their icons.
Legacy Icons
Many of our legacy icons are still in use across the BBC. View our guideline for legacy icons.
Licensing
By clicking download or continuing to use the BBC GEL Icons, you agree that:
you will not reverse engineer, alter or modify the BBC GEL Icons;
you will not use the BBC GEL Icons for commercial purposes without the BBC's prior agreement. You can email us ;
you will not make available the BBC GEL Icons so that they can be downloaded by others. You must not sell or permit others to sell or package the BBC GEL Icons with other icons that are for sale.
you will not take payment from others to access the BBC GEL Icons (including putting the files behind a paywall)
The BBC GEL Icons must always be referred to as BBC GEL Icons and you may not rename them. You must make clear when referring to them that the BBC is the owner of the BBC GEL Icons.
Disclaimer: The BBC GEL Icons are offered as is and the BBC is not responsible for anything that happens if you use them.