What is Spatial & Immersive design?
Nick Ritchie, UX Principal for XR discusses a new set of digital experiences and what they mean for our practice.
Contributors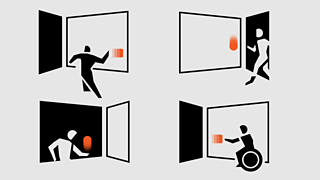 In 1959 the Danish architect S. E. Rasmussen wrote "It is not enough to see architecture, you must experience it, you must dwell in the rooms...". He explained that our experience of understanding the world around us is a multi-sensory, physical process that begins at a young age "...the baby begins by tasting things, touching them, handling them, crawling on them, toddling over them, to find out what they are like...". We learn about the world by playing with our surrounding environment, and this process continues throughout life. With this in mind, he summarises the work of an architect as "...to bring order and relation into human surroundings".
I am no architect, but I find his definition helpful when thinking about how we might create a new set of spatial and immersive digital experiences.
Our work to date has primarily been for 2D screen media (phones, TVs or laptops) and the journeys between them. New technologies like virtual and augmented reality and an increasingly elaborate network of connected devices, allow experiences to break out of these 2D planes. They allow content to enter the spaces that surround people.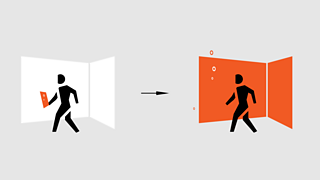 As user experience practitioners, a lot of our work is to make things that are easy for people to use. Order and relation is something we try to bring into whatever area we are tackling. But to date, we have not been focused on trying to bring that order and relation 'into human surroundings'. We haven't considered how we allow people to immerse themselves in digital experiences. We haven't been asking ourselves how people can interact in the spatial, multi-sensory way that they learnt as children.
This new way of experiencing content presents novel and powerful opportunities. You can fully immerse yourself in a story, walking alongside the characters. You can transport yourself to a place you could never get to. You can understand something better by being able to see it from all angles. Visually impaired people have been made able to see for the first time. Experiments have proved a reduction in people's implicit bias towards others. There are many applications that go beyond what you might expect, and there are many more still to discover.
And the BBC has already begun to realise the potential. Over the last couple of years, the VR Hub has created some award-winning experiences. They have demonstrated what is possible when you bring storytelling into VR. Last year R&D created an augmented reality app to accompany the Civilisations series. The sport team allowed people to experience the Fifa World Cup in VR with great results. And there have been experiments in education, news and children's applications.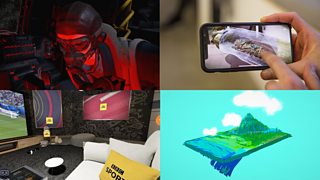 The current industry term for this group of technologies and experiences is 'XR'. It's an umbrella term to cover all the 'R's - VR (Virtual reality), AR (Augmented reality) and MR (Mixed reality). As this area expands and changes, the 'X' is like a variable, ready to accommodate whatever comes next. But as user experience practitioners, we prefer to think and talk from the user's point of view. We try to think about what the characteristics are from an experiential perspective. We believe those to be spatial and immersive, with more ways to interact e.g. voice, gesture or movements, which is known as 'multi-modal'.
There are exciting possibilities in this space and we need to start learning how to design for it now. Not so long ago, people started to leave their PCs behind and began to use their phones to access content. When this happened, we had to update the way we work. We had to understand how to fit information onto smaller screens and react to the reality that people wouldn't just be sat at their desk. The fact that our users could be on the bus or in the cinema meant we had to completely transform our methods. Our new challenge will be to transform our methods to design for experiences that exist in the spaces around people. To do this we will need to take inspiration from a wider range of disciplines. We can learn from architects, urban planners, games designers, engineers and psychologists.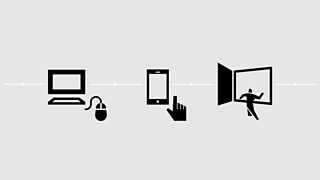 But this is not just about new skills, processes or devices. At the BBC we have a unique opportunity to think about these new possibilities and what their public purpose could be. I am part of a team looking at a range of new experiences and whatever the medium, we are always trying to understand what the real benefit is to people. We do this by asking ourselves critical questions. How might this help people in their everyday lives? How might this be used to better inform people? What barriers might there be for different people? What are the wider social implications of this potential paradigm shift? We have an opportunity to try and foresee potential issues in this emerging area. If we ask ourselves the right questions, we can build in ethical and inclusive considerations from the outset.
Rasmussen wrote that the task of the architect was to bring order and relation to human surroundings. As designers of spatial and immersive experiences, we need to take this and build on it. We need to add curiosity, excitement, understanding and whatever else might add value to people's lives.
We've made a good start and we will share our discoveries here. You can expect critical discussion and insight into our projects, research and collaborations. All with a view to creating best practice for spatial & immersive design and its use in public service.